Jeju Island is a very famous vacation spot in South Korea, often called South Korea's Hawaii.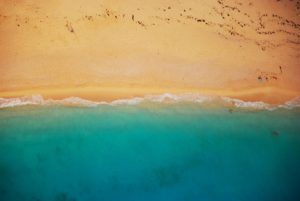 Jeju Island is easier to visit than mainland South Korea because of its relaxed visa policies. Almost anybody who wants to make a short trip to the island, for less than 90 days, does not require a visa. The fact that it is easy to enter the island for vacation, makes it a very popular tourist spot. An interesting fact about the area is the Korean dialect spoken on Jeju is distinctly different from Korean found on the mainland. It's often considered another language altogether. The magical beaches and the lush green countryside remain some of the chief attractions of the island. Volcanoes dominate the terrain, along with unique food, and the famous Haenyeo (해녀, women of the sea).
Jeju Island | Landforms
Jeju Island is a volcanic island and is home to Hallasan (한라산), the highest mountain of South Korea measuring 1950 meters in height. It lies within Hallsan National Park (한라산 국립 공원), habitat of the world's only Korean firs. The evergreen trees beautify the area all year round, while azaleas spring up every April and May. Gotjawal Forest (곶자왈 숲) is a forest located on rocky, volcanic land, making it challenging to practice agriculture on its soil. Therefore, it still has areas untouched by humans, making it exceptionally unique. The forest is the major life source on the island providing freshwater to the residents. Speaking of water, many visitors come to Jeju to see the mesmerizing waterfalls like the Jeongbang Waterfall (정방 폭포) and Cheonjiyeon Waterfall (천지연 폭포) located near Seogwipo on the southern end of Jeju.
Parks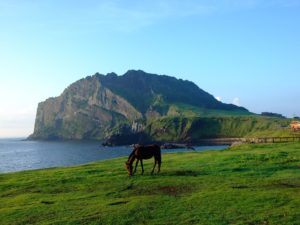 The Gimnyeong Maze Park (김녕 미로 공원) is a specially designed park with plants from all across Asia. The mazes feature seven images, more easily spotted from above. We can see a serpent, which was an animal worshiped on the island until the 1970s. We can also see horses which were brought by the Mongolians during the Middle Ages. An image of the Dutch ship Sparrowhawk, that wrecked on Jeju island during the 1600s, can also be seen. Lastly, you can spot dolmens (tombs) that date back to the Bronze Age. All images represent the history of Jeju Island. There are skywalks and an observatory which make for good photo opportunities.
Food and culture
Jeju Island is home to numerous specialty dishes. Among these are unique dishes like Jeju black pork. Domesticated Jeju black pigs have a special taste, differentiating it from other pork. Haeneyo, known as Jeju's mermaids, bring another famous delicacy to the island. Haenyeo (해녀) female divers harvest oysters, clams, abalones, and other marine life. They are able to dive 15 meters. Their skilled reputation earned them the Haenyeo Museum, solely dedicated to them. This museum is located on another small island next to Jeju called Udo (우도). It has pure white sand beaches with azure water that are a breathtaking contrast to behold. Next to Udo is Seongsan Ilchul-bong (성산 일출봉), a tuff cone formed by volcanoes. Catching the sunrise here, surrounded by a rugged coastline and green hills, is a lifetime experience.
From incredibly serene landscapes to extremely delicious food, Jeju-do has a lot to offer. Do mark it as an important place to visit when looking for a vacation spot. You surely will not be disappointed.