Ordering Korean food for the first time in a Korean Restaurant? Getting set up for your meal, and what to expect before and after? In the last blog we explained how to choose a Korean restaurant, what seating is like, and what to know about the menu. In this blog we will introduce you to more of what to expect.
Setting up the table
Before the food arrives, take a minute to set your table. Place a small napkin in front of each diner along with a pair of chopsticks and a spoon. This is often done by the youngest person there, but anyone can take the lead in doing it. Though restaurants are often very clean, we recommend putting your utensils on the napkin instead of directly on the table.
Next, pour a glass of water for everyone, pouring for the oldest person first and yourself last. Sometimes hot or cold tea will be served instead such as barley tea (보리차, Boli cha) or corn silk tea (옥수수차, oksusu cha). You can find the napkins and utensils often in a little box on the table, or in a drawer underneath. The water will be brought to you along with cups, or you can ask the server for it. When you need a refill, feel free to say "mul jom juseyo" (물 좀주세요). Sometimes the water will be self-serve; you'll be able to tell if you see a large water dispenser and a sign that says "셀프입니다".
Food is usually shared from the main dishes brought to the center of the table. If you want to scoop a portion out onto your own plate, you can ask for an abjeopshi (앞 접시). The servers will bring you a small dish that you can use as your own.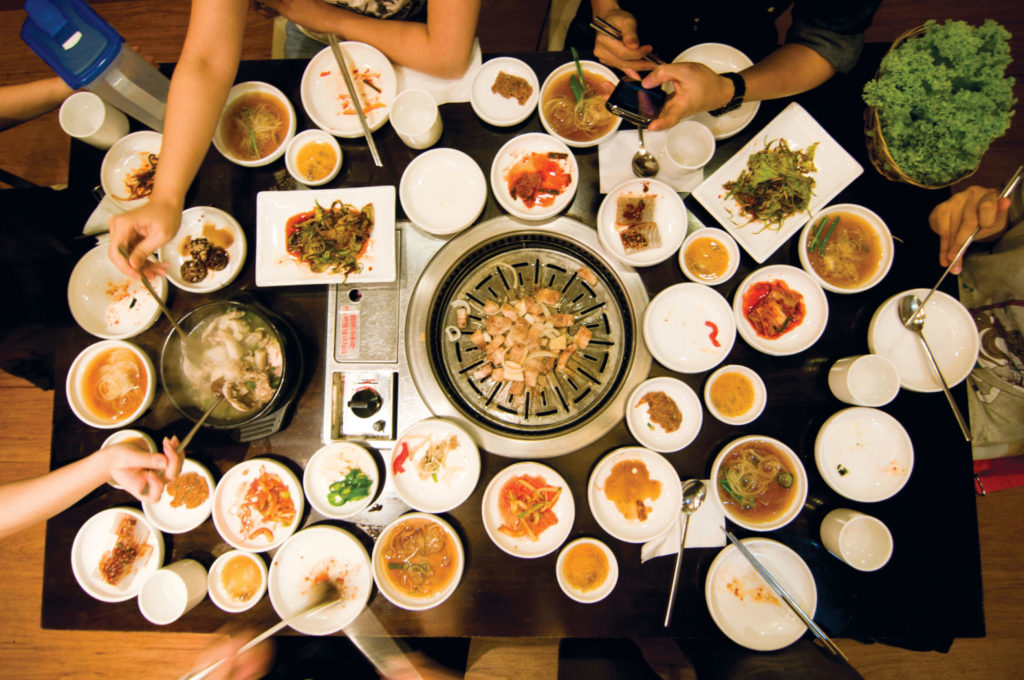 Once your meal arrives
Your delicious food is here! If it's something with noodles, long vegetables like cabbage, or larger pieces of meat, there's usually scissors available to cut it into smaller pieces. Don't be shy about this, feel free to cut any of your food so that it's a more bite size piece. Kimchi can also be cut this way, but keep in mind that the scissors should only be used for food related items.
If your food is Korean barbecue or anything grilled, also ask for your grill to be changed half way through your meal. It can get charred from the meat and sauces cooking on the surface. The server will change it so that you can start clean again.
After your meal
If it's a restaurant that's primarily serving food, Koreans tend to not linger and eat quickly, and then go to a second place (like a bar or coffee shop) to hang out and talk. If it's a restaurant where drinks are often served with the meal, it is common to sit and enjoy the atmosphere.
Reservations
Same as other countries, local restaurants don't require a reservation, but new or popular ones do. Mokran (목란), the Yeonhui-dong (연희동) restaurant owned by celebrity chef Lee Yeon Bok, requires reservations to be made 3 months in advance, for example. His restaurant became popular after he starred on the show "Please Take Care of My Refrigerator" (냉장고를 부탁해). So be prepared for long waits at hot spots.
In the next blog we'll cover how to finish your meal, payment, and other information about Korean restaurants.
Please remember, we have special study trips that feature great Korean food! Please click here to learn more. Spots are always limited!