Looking for a job in Korea or wanting to earn a degree in Korea? The TOPIK test can help! Here's more information all about the TOPIK test and to see if it's right for you!
What is the TOPIK test?
The TOPIK test is the Test of Proficiency in Korean (한국어능력시험). There are two tests – TOPIK I and TOPIK II. Confusingly, both TOPIK I and II are then further divided into levels (2 for TOPIK I and a further 4 for TOPIK II). When registering for the test, you must choose to take either TOPIK I or TOPIK II. Your final score will then correspond to one of the levels. You can also fail the test if you do not accumulate enough points.

Do I need to take the TOPIK?
Because it focuses only on listening, reading, and writing, it is helpful if you're applying for a job. In professional situations or to study in degree seeking programs (not as an exchange student) at Korean universities, it is usually needed. Some universities require a score as a necessary part of the application process. If your goals in Korea are different, for example, teaching English or working in a company you're already connected to, the test might not be necessary.
I want to focus on conversation/speaking Korean
Then the test might not be for you. Other types of classes that focus on speaking ability might be a better fit. If you do decide to take the TOPIK, make sure you set aside some time to also focus on speaking ability, so that you can develop that skill as well and it doesn't get left behind. You can check out all the language school partners Go! Go! Hanguk offers to refine your skills!
TOPIK testing schedule
The test is not offered very often, only 5-6 times per year. This means if you need to submit your test score before a certain date, you may have to take the test several months in advance, to make sure the results are published in time. Plan ahead so that you don't miss it. Below is a sample schedule from 2019. Please check the official TOPIK website for the updated registration and test date schedule.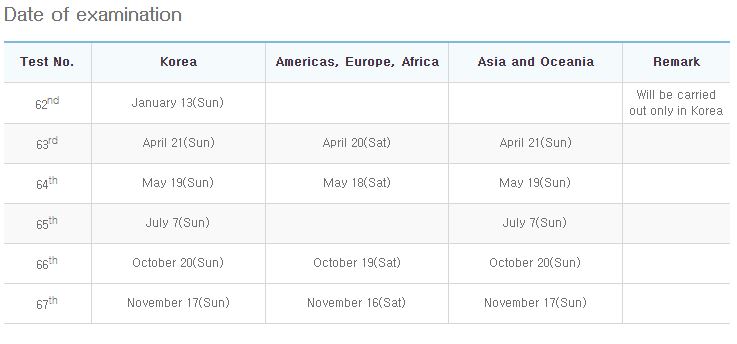 Many students say that the writing section is considered the most difficult. To get a high score in the test overall however, it's necessary to also do well in that section. When studying for it, make sure to spend most of your time developing your writing ability. It is also important to increase your vocabulary significantly. Some of the terms might not even be used in modern daily conversation, but they're necessary for comprehension during the exam.
Test format

Above you will see the test format. It is held in designated centers around Korea as well as various locations outside of Korea. Though you can take the test outside of Korea, it is often only offered once per year in each major city – for example in 2018, it was offered once in Toronto, and once in Vancouver, Canada. Again, spots fill up early, so make sure to plan ahead. In Korea, it costs KRW 40000 to take it each time.
To achieve level 1, only basic commands, sentence structures, and every day vocabulary are needed. When applying for a job, having a TOPIK score on your resume, even if it is relatively low, can still be helpful. If you are a student visa holder and wish to work part-time, you are required to have at least TOPIK level 2 to work more hours. The levels progress gradually, and by the time you have reached level 6, full academic and professional fluency is expected.
TOPIK scores are valid for two years, and then must be taken again to officially count. Especially if you're looking for a job in Korea, having a TOPIK score can be a big boost to your resume. With it offered in countries around the world, take the chance to try it!
Ready to level up your knowledge about Korea and Korean even more? Check out our blog for more on Korean language, culture, and daily life.