Hongdae (홍대) is a curious part of Seoul and also home to Yeonnamdong.
Various subcultures within Seoul come together and blend here. It is a window into what being a young Korean person entails. The area around Hongik University (홍익대학교) is like a showcase of the artistic Korean youth. It has clubs playing hip hop music and young boys and girls sporting fancy hairdos and tattoos. However, towards the other side of Hongdae is Yeonnamdong, which I personally find to be culturally very different from the rest of the area. It is part of the Gyeongui Line Forest Park, but has its own unique flavor. The quaint flower shops and vintage cafes give it a very comfortable feeling. Every day this area attracts people to it in throngs. The lush green trees and grass provide the perfect place to have a picnic. It is a place that provides much relaxation.
Enjoyable for all ages
On any given day, as the afternoon progresses into the night, one can spot musicians and singers busking in Yeonnamdong. If you get lucky, you can even spot some of the indie artists of nominal fame thanks to YouTube. Many lay out sheets to sit on the grass and enjoy their beer and snacks after a long day. Others can find benches to sit on after a tiring day of work. Even older Korean women often come out and chat about their children after a long day of working around their homes. Young couples are seen strolling around the path, and many bring their children to play. Some people even bring their dogs for a walk around the area. On certain summer days when there is a nice breeze blowing, this area is a delight to explore.
A variety of eats
Other than its general atmosphere, Yeonnamdong has some of the most interesting restaurants to check out. Each street and alley gives you the most rustic feeling that makes the search for good places even more interesting. If you're walking from Hongdae to Yeonnamdong, you will see a really good restaurant serving an American breakfast menu all day. The name of this place is Travel Maker and it serves some very good pancakes with various sauces to choose from. Even their grilled cheese sandwiches are very good. Another good breakfast or brunch place is Grain. It's a little on the expensive side, but they have so many options to choose from. You get to create your own brunch menu and everything they serve is very good for your health. There are a great many more food related places that one can explore over here.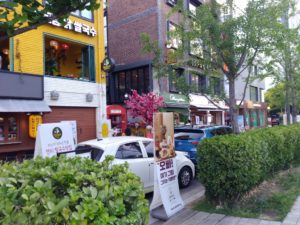 One really popular place in Yeonnamdong is Tuk Tuk Noodle Thai, which I have yet eat. Every single time, there's been an incredibly long line of customers. Its popularity seems to imply that the food here is very good. Other than Thai cuisine, there are at least three to four Vietnamese places that serve dishes like pho on their menu. If you're looking for a wider variety of cuisine, there are plenty of other options. A very good Mexican restaurant, B'mucho Cantina on one of the streets has a very loaded menu. Their cheese filled quesadillas with the fresh vegetable salad is pretty good. They also have tamarind juice on the menu. You can also find Portuguese egg tarts nearby in front.
Last but not the least; I would like to mention a pizza place in Yeonnamdong called Beezza. It serves some of the best gourmet pizzas I have tried in Korea at a very minimum price. They also serve beer to go with their pizzas, hence their name.
This area is a very unique part of Hongdae and is definitely worth exploring.