The Korean summer is hot and humid and therefore a bit hard to bear. However, there are various tricks to cool down during summer in Korea, in particular getting a portable fan and enjoying various cold summer dishes. Keep reading this article to find out what they are and to get more Korean summer survival tips!
1. Portable fan
First of all, if you're planning to spend the summer in Korea, you will often find yourself holding a portable mini-fan. You can find it everywhere in Korea, either in shops or on sale at street stalls, and there are various sizes and designs. Walking down the streets in summer, you will see almost every person carrying one. They usually have several levels of intensity, depending on how much air you want it to blow. Most of them are rechargeable with the same charger as your phone, but a power bank is also essential in case you run out of charge. You don't want to risk being without one!
2. Cosmetics to keep in the fridge
Korean cosmetics are very avant-garde and include specific products for the summer that you can keep in the fridge, especially face masks and eyeliner pencils. In this way, once the products have been applied, you will immediately obtain a fresh and regenerating effect, in stark contrast to the high temperatures outside.
3. Swimming pools and water parks
As in every country, swimming pools and water parks are popular destinations in Korea during the summer to cool off and have fun. Since public swimming pools are often very crowded, many Koreans prefer to stay for a weekend in a hotel with a swimming pool, without changing cities. There are also large water parks, including the Caribbean Bay in Yonggin, a few kilometers from Seoul, ranked as the world's largest water park – definitely worth a visit at least once. Otherwise, if you prefer the sea to a swimming pool, you can go to one of Korea's many seaside resorts.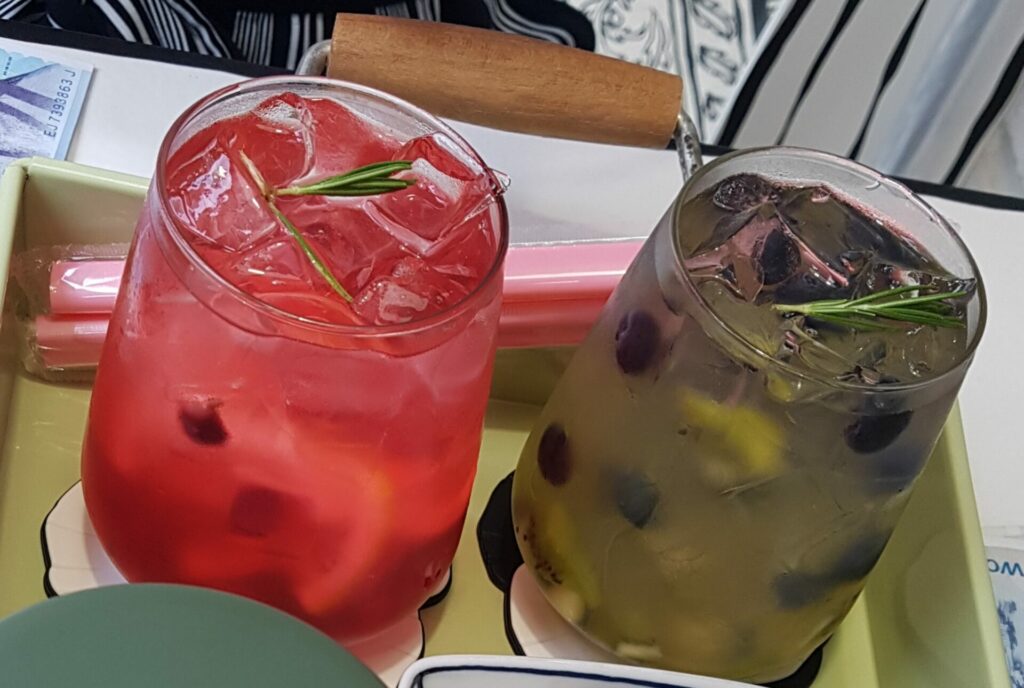 4. Refreshing drinks
In Korea, you can find many refreshing drinks, including various teas and many types of ade (에이드), which are fruit-flavored drinks that are usually fizzy(refreshing fruit flavored soda). The one we know best among these is lemonade (lemon ade, 레몬에이드), but there are also kiwi (kiwi ade, 키위에이드), blueberry (blueberry ade, 블루베리 에이드), tangerine (gyulcheong ade, 귤청 에이드), etc., as well as various other flavor mixes.
Koreans also love iced coffee, especially American (ice americano, 아이스 아메리카노) which, in common slang, can be abbreviated to a-a (아아). Because Koreans love Iced Americano so much, there is also a popular slang called 얼죽아(얼어 죽어도  아이스 아메리카노) which translates to "Even if I freeze to death, it's (always) Iced Americano (for me). 
5. Cold dishes
Korean cold dishes are very special indeed. They include cold noodles in cold broth (often even with ice), such as mulnaengmyeon (물냉면) and kongguksu (콩국수). Just as in winter people eat hot soups to keep warm, in summer there are cold soups to cool down. In spite of this, many people believe that it is more beneficial to eat hot soups in the summer as well, in order to raise the body's core temperature and suffer less from the contrast with the outside world.
Now to the desserts. Apart from various ice creams, the absolute best Korean summer dessert is bingsu (빙수). Simply put, it is shaved ice decorated with various toppings, the most common of which is red bean jam (pat bingsu, 팥 빙수). Fruit toppings are also very common. In any case, whichever type of bingsu you choose, it will definitely help you feel cooler.
These are the best ways to cool off in summer in Korea besides, of course, wearing light, breathable clothes. In enclosed places, the air-conditioning is always kept at a very low temperature, so if you just can't stand the mugginess any longer, you might want to take a walk around the many shops, cafés or museums.
We hope you enjoyed this article! For more information on life in Korea, keep following the Go! Go! Hanguk blog and do not hesitate to contact us.