First of all, what is a study trip? A study trip is a short study trip abroad, usually lasting a few weeks, and it combines an intensive language course with fun extracurricular activities. A study trip in Korea through Go! Go! Hanguk lasts 2 to 3 weeks, and includes Korean lessons from Monday to Friday, various cultural activities and accommodation throughout the course period.
This type of study trip is ideal if you have never visited Korea, or if you are not ready to move there for a long time despite loving its culture. We will now give you 8 reasons why you should go on a study trip to Korea.
1. Travelling alone or in company
By participating in a study trip to Korea, you have the opportunity to make new friends locally, without having to spend your time alone in a foreign country far from home. During the cultural activities and language course you will have the opportunity to make friends with the other participants and share your passion for Korea with them, as well as getting assistance from the Go! Go! Hanguk staff.
If, on the other hand, you want to go with a friend or your partner, you can also enjoy a group discount!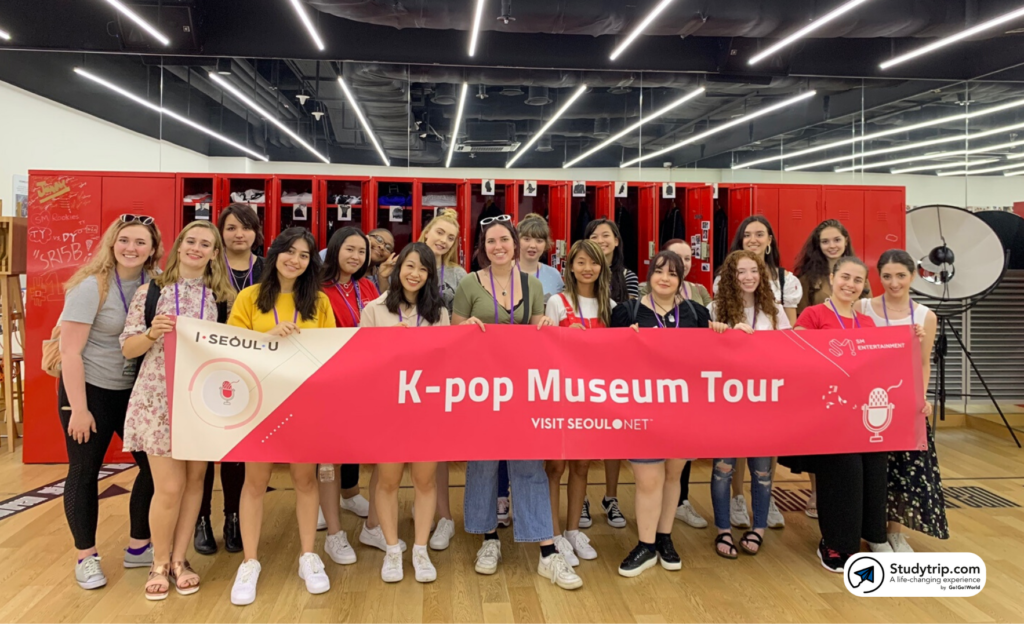 2. Study in an international environment
Studying abroad helps you get to know people from all over the world. You will attend the same school with your fellow students. Attending Korean language classes in the mornings and joining cultural activities in the afternoons makes it easier to make friends and spend time together. One of the best aspects of a study trip is being able to get to know friends from different countries, with whom you might stay in touch with even after the trip ends.
3. Korean courses for all levels
Language lessons will take place at a Korean language school that offers classes for all levels. Whether you start from scratch or from a more advanced level, there will be a level test to assign you to the most suitable class for you. Those starting from scratch will be able to learn the Hangul alphabet and expressions useful in everyday life, and begin to communicate on their own in Korean during these weeks of study trip in Korea. Those who already have a foundation can take the opportunity to learn vocabulary and grammar, as well as plenty of conversation practice.

4. Combine tradition and modernity
As mentioned above, every study trip in Korea offers a range of cultural activities, and they may vary depending on the course. Extra-curricular activities are all accompanied by our local staff, and popular ones include visiting the Changdeokgung Imperial Palace in traditional hanbok dress, preparing kimchi, making your own name seal, and walking through a Korean folklore village. You'll feel like you're travelling through time as you move from traditional excursions and activities to decidedly more modern ones. These include K-pop dance lessons, tours of SM Town, which is one of Korea's biggest record companies, and an evening in noraebang, the Korean karaoke.
5. No age limit
Study trips are for everyone. There are two-week study trips for juniors aged between 14 and 17, or other three-week trips for those aged 18 and over, with no maximum age limit. In the Youth Korea course, participants will stay in a homestay with a Korean family and other study trip participants. Be prepared for two intensive weeks of study and fun!
All other courses, such as the Summer Course Korea, target those 18 years old and above. Participants will have more freedom and more free time between activities.
Even if you are 30 or older and want to try this experience, don't think it's too late. It's never too late to study abroad and learn!

6. Being more than just a tourist
When visiting a foreign country for the first time, it is normal to go to the most touristy places. Even on a study trip, you'll make the typical tourist stops for those visiting Korea for the first time, but you'll also have the opportunity to experience the culture more deeply. You'll talk to locals and have experiences you probably won't be able to make reservations for without speaking the language. We will organise everything for you, from your arrival until your last day in Korea. You only have to deal with the online booking and flight.
Furthermore, compared to being a typical tourist, you will study Korean and have many opportunities to practise the language during your stay in Korea. When you ask for information for an address, order a coffee or look up your favourite K-pop songs at the noraebang, you will be able to use Korean, which is a step up from those who can only communicate a little Korean and rely heavily on English.
7. Test bench before moving to Korea
Let's say your dream is to live in Korea, but you've never been there and you're not sure if it's what you expect. That's why taking a study trip is the best way to find out if Korea is really the place for you. By attending a full-time language course, Monday to Friday, and being in contact with Koreans during activities and beyond, you will get a feel for what life is like in Korea. From our personal experience, we can assure you that after the 2-3 weeks trip, you'll be eager to come back and stay longer, but we'll leave the judgment to you.
8. Add value to your CV
Having a study abroad experience is always good because it helps us to grow, broaden our horizons and enrich ourselves. In addition to this, being able to include in your CV that you have studied in Korea is definitely an added value – Korean is not a popular language like English or Spanish, but a very useful one and very few foreigners speak it fluently. Proving that you have studied and lived in Korea for a period, even if it is short, is definitely something that will not go unnoticed when you go for a job interview.
So, what do you think then? Do you fancy visiting Korea and making lots of new friends at the same time? If you would like to participate in a study trip in Korea, contact our staff or visit Studytrip.com, which is part of Go! Go! Hanguk. There you will find all the information about courses, dates and prices.
If you love Korea and want to learn more about it, keep following our blog for continuous news and information about life in South Korea.