Budae jjigae(부대찌개) is one of the most unique and crazy Korean dishes. It literally means "army stew", and consists of several surprising ingredients all cooked up together. It's a must try though, with a rich history and unique flavour you can't forget.
Jjigae(찌개) in Korean means stew, and includes so many popular ones that you will eat on your trip to Korea, including kimchi jjigae and doenjang jjigae (된장찌개, soy bean paste stew that has a fermented flavour). It's also a kind of hotpot-style dish – everything is brought to the table uncooked, and you can add as much as you want to the pot. Budae jjigae restaurants are also often all-you-can eat, with the ingredients put out on a buffet. The servers will keep bringing broth, often one or two kinds, to keep your pot boiling so that you can keep eating.
The main ingredients are usually a slightly spicy gochujang(고추장), hot pepper paste, that gives it the bright orange colour. Spam, ham, hotdogs, sausages, baked beans, and other proteins are also added to the broth. Then there are carbohydrates like ramen noodles, sujebi pasta (수제비), and ddeok (떡), which are rice cakes. Mushrooms and other vegetables like onions are often added, as well as sliced, processed American cheese on the top. All of this is boiled in a big pot, and served with bowls of rice on the side.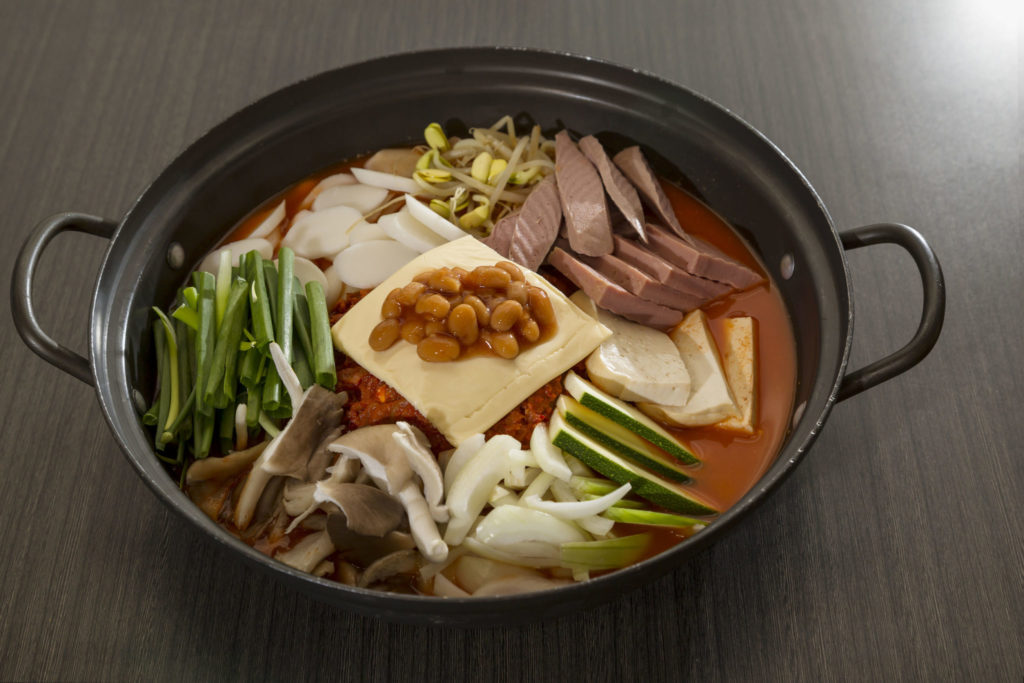 Here's what it looks like when it is first brought to your table, and before it is cooked.
These days, budae jjigae is also considered tasty anju(안주), which is food designed to go with alcohol. You'll often see people drinking soju with it, for example. The history of it is more interesting, however.
Budae jjigae comes out of Korea's history with the United States army after the Korean War. Despite the war having ended in 1953, American troops continue to reside in Korea. At the time, Korea was incredibly poor, and many used food that they could get for free from the U.S. army bases. This included surplus ingredients like spam and hotdogs. When combined with kimchi, which was always readily available, it made budae jjigae. Though its recipe has been expanded and developed over the years, the main ingredients are still the same. It's also still sometimes called Johnsontang, or Johnson soup(존슨탕), after the American president Lyndon B. Johnson. According to legend this is because he had enjoyed eating it when he visited Korea. On budae jjigae restaurant menus, you'll often see this listed as its alternate name. The best and most famous budae jjigae is often said to come from Uijeongbu (의정부), a city to the north of Seoul, because of its army base there. Feel free to try and track it down if you want a day trip on the KTX train system!
Budae jjigae has such a unique taste from its crazy combination of ingredients, and comes from a fascinating time in Korea's history. Similar to how Korea itself has changed so dramatically in the recent decades, budae jjigae has retained a little bit of its history combined with some of the more exciting elements of Korean fusion food. Celebrity chef Anthony Bourdain did a fun episode where he cooked budae jjigae for Anderson Cooper, and talked at length about how crazy it is. You can watch his commentary on his Youtube channel. As he says, the spiciness might feel like it's too hot at times, but the overall taste is delicious. Budae jjigae is definitely a must-eat food when you are in Korea!
Please remember, we have a special 2-week study trip focused on Korean food this Spring. Please click here to learn more. Spots are limited, check it out now!