No employee shops have been appearing globally over the past few years. Although places like Amazon have launched stores with this concept world-wide, they have been actively growing in Seoul and stock much more than just groceries. Within Seoul, many of these stores grew in popularity during the Covid-19 pandemic as they were able to effectively limit the amount of human interaction taking place. But what are exactly no employee shops in Korea? Read more to find out.
What are no employee shops?
The majority of these stores work simply by only using self-service machines to check out goods. All of these stores have cameras installed for security and most are open 24 hours a day, with the benefit of cheaper product prices because there are no employees. Many people have noted that no employee shops create a more peaceful shopping environment as there are less people within stores at any given time. Check out some of the unique 'no employee' shops during your time spent in Seoul.
Uncommon Store | 언커먼스토어
Inside the Hyundai Seoul the 'Uncommon store' encourages customers to have an uncommon shopping experience. The uncommon store is located on the 6th floor of the department store and is a no employee convenience store like no other. At this store you pay without cash or card. Once you enter the store there is no checking out of your items necessary- you can just grab your desired items and go. The store works by customers using the "현대식품관 to home" app. Once you have downloaded the app you can use the QR code provided to allow you access through the convenience store gates and to begin shopping.
The sensors around the shop pick up on customers' movements and items gathered and will charge you for your items automatically once you exit the store. The store prides itself on its 'uncommon' theme, with a regular rotation of interesting products. The majority of products available aren't easily found in Korea, making for each visit both fun and unique. The Hyundai Seoul is also a great place to check out too. As Seoul's largest department store, it has many great branded shops and has photo opportunity areas installed all year long. Click here for further information about all that the Hyundai Seoul has to offer.
Address: 108, Yeoui-daero, Yeongdeungpo-gu, Seoul.
서울, 영등포구, 여의대로, 108
Closest subway station: Yeouinaru Station, exit 1.
여의나루역, 출구 1번 (Eleven-minute walk from the station.)
Closest bus stop: Deohyeondae Seoul 19282
19282 더현대서울 (Less than a one-minute walk from the bus stop.)
Opening Hours:  10:30am-8pm Weekdays, 10:30am-8:30pm Weekends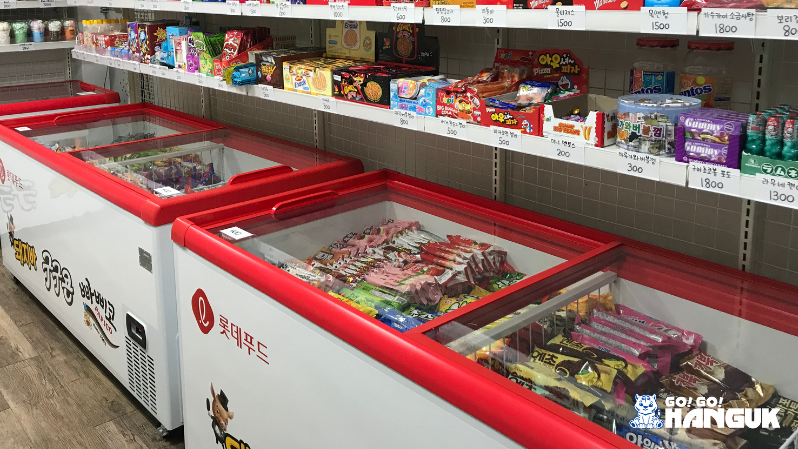 Damah Damah ice cream | 담아담아아스크림  
Damah Damah ice cream is claimed to be the largest no employee store in Seoul with over 200 different types of ice creams for sale. This store offers ice creams, candies, and snacks all at a discounted rate compared to convenience stores and supermarket prices. Damah Damah ice cream is located right next to Konkuk University, so it has become a hot spot for students to try out a range of ice creams flavors that aren't available anywhere else. Ice cream prices start at as little as 300 won, with the most expensive ice cream tubs being only 4,500won. Once you have decided which ice creams and snacks you would like to purchase, you can pay via the self-checkout in the store. For an extra 500 won you can even purchase an ice bag to ensure that your ice cream doesn't melt on your travels.
Address:  54 Achasan-ro 31 gil, Gwangjin-gu, Seoul
서울, 광진구, 아차산로 31 길,54
Closest subway station: Konkuk University station exit 3
건대입구역 2호선 출구 3번 (The store is a four minute walk from the station exit.)
Closest bus stop: Kondae Hospital bus stop
건대병원입구역 정류장 05263 (The store is a two minute walk from the bus stop.)
Opening Hours:  12pm to 1am daily
The Ramen Convenience Store | 무인라면편의점
The ramen convenience store was previously featured on the tv channel KBS before as a unique experience to try out. There is a wide variety of ramen to try such as Korean staples like Shin ramen, Chapagetti and all the flavors of spicy Buldak noodles. At the restaurant you can also add extras to your ramen to create a fulfilling meal at an unbeatable price. Rice can be purchased for 1,500 won and you can add an egg to your noodles for just 200won. If you don't fancy noodles, you can also try the range of instant traditional stews available too.
This no employee restaurant has two floors with the second floor having seating for up to 10 customers. Upstairs there is also a place to prepare your meal and even a self-bar where you can add vegetables like bean sprouts and kimchi to your noodles for free. This restaurant is not just unique for not having employees though, it also has a personal touch from all the notes left from passing visitors displayed around the restaurant. The restaurant encourages customers to write messages on sticky notes which commonly include ramen recommendations, encouraging messages and other nearby destinations to check out. The ramen convenience store is truly a great place to check out if you would like to peacefully enjoy a comforting meal.
Address: 11, Donhwamun-ro, Jongno-gu, Seoul 03192
03192 서울, 종로구, 돈화문로, 11
Closest subway station: Jongno 3 (Line 1) exit 14,
종로3가 출구 14번 one minute walk from the station exit.
Closest bus stop: Jongno 3 ga. Tapgol Park Bus stop (01016)
종로 3가 탑골공원 정류장 01016 하차 (Approximately a five minute walk from the bus stop.)
Opening Hours: The ramen convenience store is open 24/7.
Lounge X Mapo | 라운지엑스 마포점 
Lounge X is a large café that combines a conventional café with the fun concept of having a robot barista. Recently robot baristas have been popping up globally and Seoul is no exception to this. At this futuristic coffee shop, you can order bespoke cookies and waffles at the kiosk while your drink is made by the robotic arm on-site. The robot barista makes drinks immediately after orders are placed and creates unique drinks such as a blueberry shake and coral muscat tea. Lounge X is quickly becoming a chain brand across Korea- offering unique futuristic elements to all of its' cafes. If you visit the theme park Everland or even Jeju Island, there are also branches of Lounge X to check out too.
Address: First floor, 122 Mapo-daero, Mapo-gu, Seoul
서울, 마포구, 마포대로, 122, 1층
Closest subway station: Directly next to Gongdeok station, exit 4.
공덕역 출구 4번
Closest bus stop: Ahyeondong Citizen center (middle) 14005
아현동주민센터(중) 14005
Opening Hours:8am-7pm (Closed on Saturdays and Sundays)
Touch café | 터치카페 
Touch café is one of the largest unmanned coffee shop chains in Korea. Having various locations across Seoul, this premium machine operated café is known for its' affordable yet interesting menu items. All drinks sold by touch café are under 3,000 won each making this café a great place to stop by. Touch café is able to provide its' customers with a more elevated experience than purchasing drinks from a convenience store. Higher quality ingredients are used for all drinks, and all are electronically made to order. Drinks being ordered in this way also allows for customization through the different types of coffee beans available.
This brand is a great to check out if you are not yet confident when speaking Korean too as the machines provide many language options. The machines provide services in Korean, Japanese, English, German, Italian and French. A lot of touch cafe's locations are specifically designed to be both comfortable and cozy. This results in creating the perfect place to quietly work or study.
Address: 12, Nonhyeon-ro, 131 gil, Gangnam-gu, Seoul
Closest subway station: Hakdong Station, exit 7
학동역, 출구 7번 (One minute walk from station.)
Closest bus stop: Hakdong Bus stop 23114
23114 학동역 정류장
Opening Hours: 6am-12am daily
We hope that from reading this article that you will be inspired to check out some of these locations during your time spent in Seoul.
If you enjoyed this article, keep following the Go! Go! Hanguk blog and don't hesitate to contact us about living and studying in Korea.