The Pentaport Rock Festival is a three day event that takes place every summer in Incheon.
It is considered to be one of the biggest live music events in South Korea. The lineup is always made up of both Korean and international rock bands. This was originally called the Triport Festival which was to take place in 1999 with a lineup boasting acts like Rage Against the Machine and Dream Theater. However, this first festival was cancelled due to extreme weather conditions. It wasn't until 2006, that the event was finally revived. Korean bands such as Jaurim (자우림), Nell (넬), The Black Skirts (검정치마), Galaxy Express, Jambinai (잠비나이), The Koxx, Daybreak and Hyukoh (혁오) have played here. International groups include the following. Nine Inch Nails, Nothing but Thieves, The Kooks, Travis, Snow Patrol, Korn, Stereophonics, Muse, and Placebo.
Pentaport Rock Festival 2019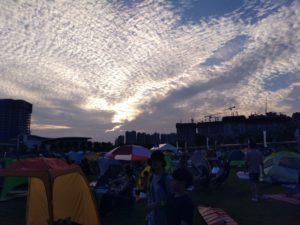 The Pentaport Rock Festival took place at Songdo Moonlight Festival Park. This year's lineup included bands like YB, The Fray, Jambinai, Broccoli That's You (브로콜리너마저), Weezer, and The Rose. The Festival consisted of three stages. The KB Kookmincard Starshop Stage hosted some of the major acts for all three days. There was also the Coke Stage and the Incheon Airport Stage. Other things at the venue included beer stalls, camping areas, and a food zone. Despite the intense heat the venue was full of people, young and old. There was something for everyone. Most of the people had brought tents with them in order to fight the heat. There were also air conditioned rooms providing people with some cool shade from the intense weather. There was still a mosh pit up front where a lot of fans were gathered, though most other people kept away from it.
Jambinai's performance
Since the event is divided into three days, it was impossible to attend it all. I was able to attend Saturday's show, where I finally got to experience the magic of Jambinai. They're a Korean experimental rock band formed in 2009. Their music is a fusion of Korean traditional instruments with electric guitars and drums. Their debut album, Différance, won the award for Best Crossover Album in 2013 at the Korean Music Awards. They also performed their debut song, Time of Extinction (소멸의 시간) at the 2018 Winter Olympics closing ceremony in Pyeongchang. Members include Kim Bo Mi (김보미) on the haegeum (해금), Lee Il Woo (이일우) on electric guitars, Piri (피리) and Taeyeongso (태평소) and Sim Eun Young (심은영) on the geomungo (거문고). All three members were students of Korean traditional and classical music in university, and thus they can evoke deep emotions among the audience with their sound.
Listening to Jambinai had been my dream because of their unique sound. I always enjoy art forms that try to break the mold by trying out new things. Jambinai is by far, the only Korean rock group I know of employing fusion to their sound. Yet, it's the way in which they fuse that sound with various rock music traditions that truly makes them stand out. The sound varies from being very melodic in songs such as Connection, all the way to metal such as in They Keep Silence (그들은 말이 없다). The haegeum often sounds like a wailing human creating an ambiance of woefulness or mourning. Their sound is often compared to bands like Mogwai or Explosions in the Sky. I also sense a darkness similar to one that can be found in Nordic traditional music. The anger and grief alternating in their sound speaks to me intimately.