Korea is not one to shy away from thrilling amusement parks. Whether you are traveling with friends or family, you definitely need to take some time to explore Korea's theme parks. Korea thrives with great theme parks featuring roller coasters and rides for all ages, water parks that help you cool down on a hot day, or even obscure theme parks if you are feeling adventurous.
Lotte World

This amusement park is a must for anyone visiting Korea. Lotte World isn't just a theme park, it is a huge recreational complex that holds the world's largest indoor theme park, an outdoor amusement park named "Magic Island", an artificial island inside a lake linked by monorail, and plenty more to explore. It even has shopping malls if you aren't into rides.
Everland

This is Korea's largest theme park that has its own zoo and water park. It's a lovely 3 in 1 deal when you visit! There are five roller coasters at this theme park and one of them holds the record for the world's steepest wooden roller coaster. The same roller coaster is Korea's highest, fastest, and longest coaster! So you will never be without thrills at this theme park. Everland also houses Caribbean Bay Water Park, which is the world's largest indoor and outdoor water park.
Seoul Land
This theme park is family-oriented with various areas such as "Fantasy Land", "Tomorrow Land", and "Adventure Land." It has all of your favorite traditional theme park rides from bumper cars, roller coasters, and viking ships. If you're looking for another record breaking entry, Seoul Land houses Korea's largest botanical garden and zoo.
E-World
Located in Daegu, this theme park is built around the Woobang Tower. Split into four different parks: Fantasy World, Magic World, Adventure World, and Dynamic World, this park has plenty of rides, exhibitions, and performance halls to keep you busy for hours.
Vivaldi Park Ocean World
This water park is a part of the Vivaldi Park resort and is 14 times bigger than a soccer field and can fit up to 18,000 people. Built to look like an oasis in the middle of the Egyptian desert, this water park will make sure you can enjoy a day splashing around and cooling down.
Maze Land
An entire theme park dedicated to mazes and is home to the world's largest stone maze. You might have to travel a bit for this one though. It is located on Jeju Island so while you explore the beautiful island of Jeju, you can take some time out of your day, literally getting lost.
Love Land
This is not one to go with family unless you are extremely comfortable exploring the world of sexuality with them. Located on Jeju Island, this is an entire park themed around erotica and sexuality. If you are looking to do something super unique and spend an afternoon that you probably won't be able to tell your grandma about, this spot is for you.
Imsil Cheese Theme Park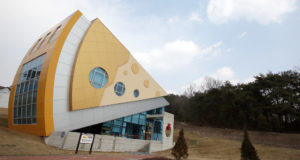 Cheese lovers unite! Finally a theme park completely devoted to cheese. You can find cheese-themed rides, buildings shaped like cheese, and of course cheesy foods to eat. Even if you are lactose intolerant, this is still a theme park to explore just to say that you went to a theme park dedicated to the beautiful world of cheese.
If you are looking for a unique experience or just a fun day with thrill rides, Korea definitely has it all ready for you.