The Busan coast hosts many tourist attractions of Busan. It's a stunning landscape that stretches across the city, showcasing both the beauty of nature and the excitement of a thriving, modern city. The sprawling beaches and cliff faces combine with impressive structures such as Gwangandaegyo (광안대교, The Diamond Bridge), creating scenes that are really special and unique to Busan. Because of this, the Busan coast is heavily featured in many Korean dramas and films. Busan's Gwangalli beach (광안리 해수욕장) is even featured in the Marvel blockbuster Black Panther!
Haeundae beach
There are many beautiful and interesting locations along the Busan coast that are worth visiting, one of these being the famous Haeundae Beach (해운대 해수욕장). There you can happily spend the day enjoying the great atmosphere and the many activities offered. It also hosts the Busan International Film Festival as well as other events such as concerts and performances. The beach itself is roughly 1.5 km of beautiful white sand and is extremely popular with foreign tourists and Koreans alike. It is a lovely place to enjoy at any time of the year. When summer hits, this beach is particularly busy with estimated visitors ranging in the hundreds of thousands every day! Of course, if you get hungry, there are many excellent options, especially if you enjoy seafood!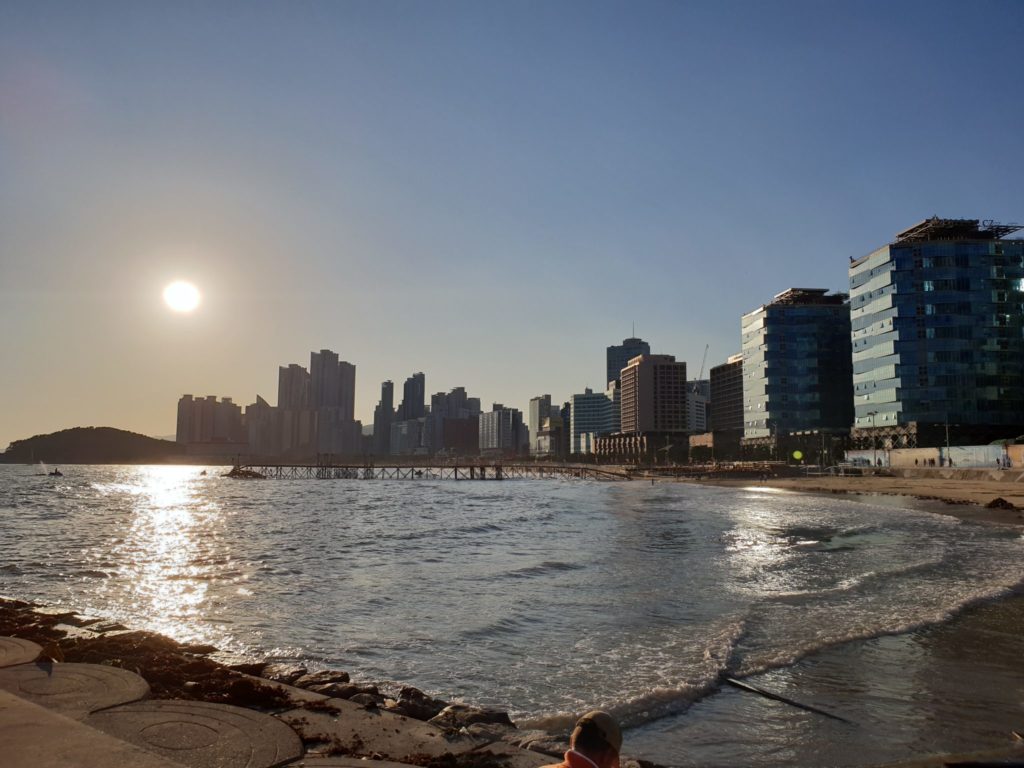 Haedong Yonggungsa temple
If you care to venture slightly further off the beaten track, you will uncover a hidden gem in Haedong Yonggungsa Temple (해동 용궁사). While there are many impressive and notable temples across of Korea, one of the most special has to be this temple – sometimes known as 'The Korean Dragon Temple'. It is a 14th century Buddhist temple founded by a venerable monk known as Naong. While most Korean temples are located on the top of mountains, this temple is built alongside the seacoast. This especially adds to the temple's mystique and uniqueness.
To get there, take the Busan Metro line 2 to Jangsan station (장산역) stop #203. From here, it is a short taxi (about 10000 won) or bus ride (Bus #181) to the temple. Because of the perceived difficulty in getting to Haedong Yonggungsa Temple, it is somewhat of a lesser known tourist spot and can be unfortunately overlooked. However, if you have time to explore this area, it is definitely worth the trip. By the way, admission is free!
Transported through time with breathtaking views
Upon arrival you will pass through a row of charming street food and souvenir stalls from which you are suddenly transported into a seemingly different time and place. The modern world around you disappears and is replaced by scenes reminiscent of early Joseon (조선, former name for Korea 1392-1897) period dramas. Starting with large, life-size statues of the Sibijisin (십이지신, 12 Gods of the Earth), you are taken through a forest like enclosure containing various shrines. These shrines are in the name of everything from spiritual harmony to an 8 story pagoda responsible for traffic safety. From here, a small cave like structure leads you towards the main temple sanctum. When you emerge from the tunnel you are greeted with a scene that really takes your breath away.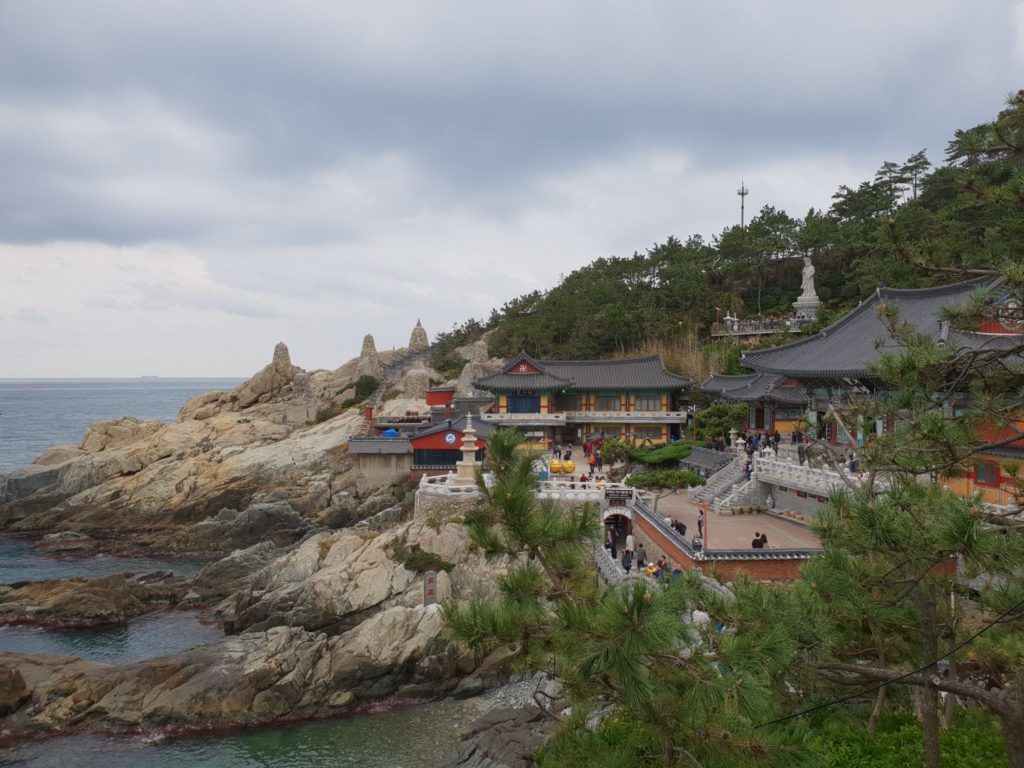 The main temple sanctum itself contains plenty more colourful and interesting things to see. Of course this being 'The Korean Dragon Temple' you can expect to see many dragons. On top of this, there are several impressive buildings such as the Daeungjeon Main Sanctuary (대웅전), a sea goddess statue, and even a coin flipping challenge for good luck!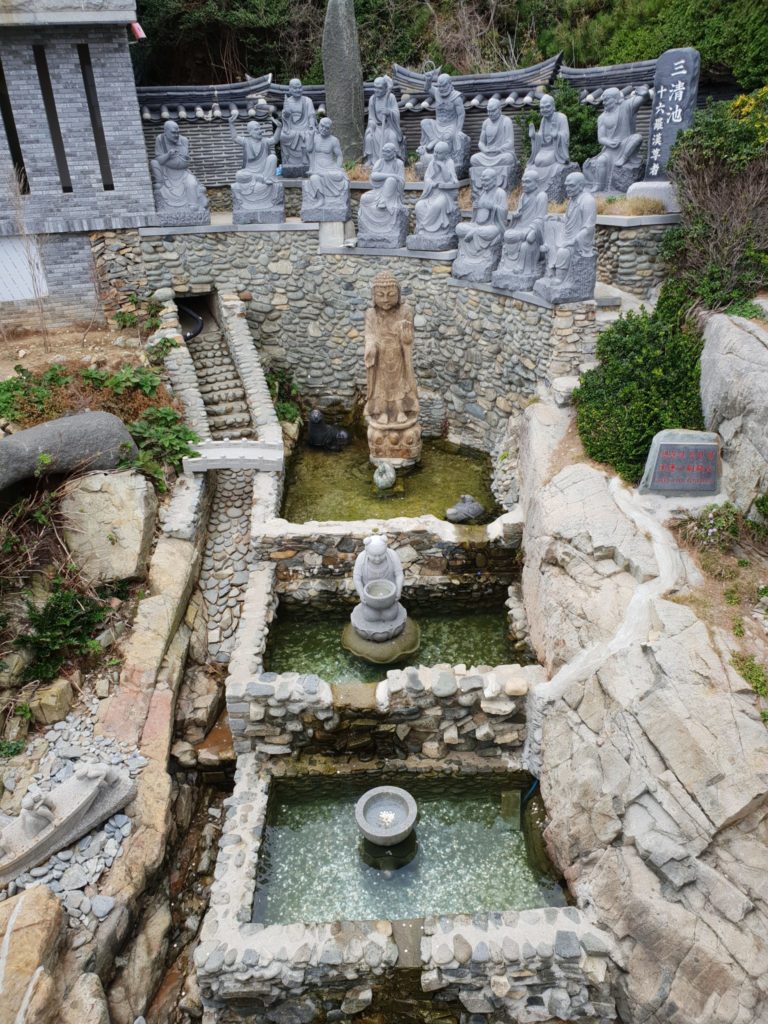 All this is set among the truly surreal and picturesque background of the Busan coast and sea, as well as an array of luscious foliage. There are of course many vantage spots to take social media worthy photos or just to take in the moment and create a cherished memory. If you can catch a sunrise or sunset you are really in for a treat. It is an experience that is soothing for the soul and awe inspiring at the same time! Whether you are a long time resident or a visitor to Busan, the coast is always worth a trip!
All photos were taken by the author and used with permission.