Winters in Korea can be extremely cold. If you are visiting Seoul during this time you can expect sub zero temperatures, regularly in the -10 to -20 degrees Celsius range! If you are looking to spend a milder winter in Korea why not come enjoy the many winter activities in Busan? Busan is famous for many winter activities both indoors and outdoors!
Because of its more southern latitude and the effects of being on the coast, Busan has a milder winter. You can enjoy activities both inside and out without having to worry too much about freezing! Though the temperature does drop below zero degrees Celsius, the annual snowfall is among the lowest in the whole country. The winter months also are some of the driest of the year. It is usually still sunny during the day, so if you want to avoid the snow and bitterly cold weather, Busan is perfect for you.
Winter festivals of Busan
The Busan Christmas Tree Festival is held for a period of about 40 days, starting in December. During this time you can find Christmas trees all around the city and especially in three uniquely themed areas. It is a relatively new tradition and the festival is just going into its 11th year. The highlight is a huge 20 meter tall tree located in the popular shopping and eating district of Nampo. With the background of this spectacular tree you can watch and enjoy various performances throughout the day and night. This includes carol singing in the evenings to complete the festive vibe.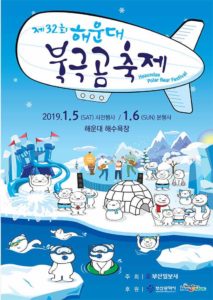 Another Busan event is the Haeundae Polar Bear Festival (북극곰 축제). It begins in the early part of January celebrating winter and the ocean. Brave souls start off the festival by diving into the ocean and taking part in a swimming competition in the early hours of the day! It is an extremely popular activity with up to 4000 participants every year! You will need to register online in advance if you wish to take part. It certainly is a unique and memorable experience that you will not soon forget. Events at this festival include concerts, dance shows and of course, everyone's favourite – delicious food. If this particular activity sounds a bit too adventurous there are plenty more relaxing, but equally interesting things to enjoy.
Indoor activities
Some people don't care for the cold at all and would rather avoid it entirely, don't worry! There are many indoor winter activities in Busan and attractions that you can enjoy whatever the weather!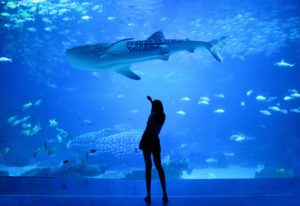 Busan boasts a wide selection of marine life. At the Sea Life Aquarium you can feed penguins, see sharks and other fascinating fish, and even a display for the unsung heroes of the sea – algae! It is located right on Haeundae beach and the structure of the aquarium gives the feeling that you are entering the ocean itself! There are also a wide variety of shows on offer including a Mermaid Princess story and an underwater virtual reality experience.
Shinsegae Centum City is a record holding paradise for shopping. Built in 2009 it holds the Guinness world record for largest department store at 3.16 million square feet! It is a worthwhile destination all year round but particularly so in the winter, as a great way to take shelter from the outside elements. There are many exciting holiday themed and winter activities within its vast halls. These include an indoor ice rink which is a perfect activity to enjoy and embrace the winter spirit. The rink can host a maximum of 500 people and is a fun way for all to feel festive. Afterwards you can enjoy a dynamic variety of Korean cuisines well as other fine dining in a sprawling food hall. There is also a world famous cinema on the top floors which frequently host BIFF (Busan International Film Festival) events in the showcase screen known as The STARIUM.
Enjoy a traditional Korean jjimjilbang!
Winter is the perfect time to take up refuge in a jjimjilbang (찜질방, Korean bath house). Busan has some of the best in Korea including Spa Land which is also part of Shinsegae Centum City. Here you can enjoy hot baths, heated floors, and comfortable seats. Take a break from the cold and unwind in style. The water in the baths is all-natural spring water, pumped in from 1000 feet underground. As well as variety of different pools, there is a Finnish style sauna and a steam room.
Outside of the baths you will find couples, friends and families all enjoying the benefits of the traditional Korean ondol (온돌, Korean heating system) together. There are a wide variety of dry sauna style rooms of varying temperatures. Each of the 13 rooms on offer has their own unique theme. There are also massage chairs, a spa, restaurants, and many other ways to relax.
Busan is perfect for those who want to take refuge in a more cozy environment during the winter months. Check out Go! Go! Hanguk's Busan partner schools to learn more and start studying in Busan today!