There's nothing more comforting than warm, delicious food to ail the bitter cold of winter. Korea being a country for foodies everywhere is here to provide and never disappoint. Here are some winter foods to enjoy for meals or street food snacks!
Main dishes
1. Rice cakes soup – tteokguk (떡국)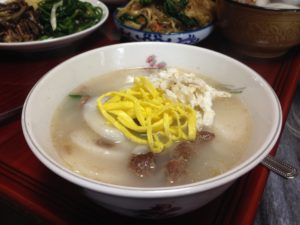 This is a traditional soup, usually eaten on New Year's Day to symbolize turning one year older. However, this is still enjoyed during regular meals because it's so delicious and warm. It's made with rice cakes, flavorful beef broth, egg, scallions, and other veggies if preferred. 
2. Dumpling Soup – Manduguk (만두국)
This is basically tteokguk with dumplings because how can you ever go wrong with adding dumplings to anything!?
3. Ox (Beef) Bone Soup – Seolleongtang (설렁탕)
This is one of the most popular soups in Korea. It's rich, meaty, and delicious. Seolleongtang is full of protein and calcium so it's also great for your body. Beef bones are boiled for several hours to make the broth, topped with meat and scallions. You can add noodles to it or just eat it with rice. Either way, it's a dish that will warm your body and your soul.
4. Korean Rice Porridge – Juk (죽)
Juk is warm and filling, perfect for winter. There are many variations of this dish that include ingredients like chicken, vegetables, seafood, and grains. Juk is usually eaten with various side dishes as it's a bit bland alone.
Winter street foods
Street foods dominate Korean winter cuisine. As street food culture is huge in Korea, you can never go wrong with these wintery street foods.
1. Pastry with red bean paste – Bungeoppang (붕어빵)
Warm with a crunchy exterior and a delicious sweet interior, it's perfect for a winter snack. The pastry is a fish shape, for extra fun!
2. Sweet pancakes – Hotteok (호떡)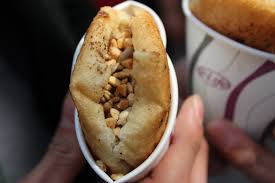 A stuffed pancake filled with brown sugar syrup and can also include nuts and grains inside.
3. Fish cakes – Odeng (오뎅)
Warm fish cakes don't really sound like the ideal winter street food but it sure is, and it's delicious. Warm broth accompany the fish cakes served on a skewer.
4. Roasted chestnuts – Gunbam (군밤)
Vendors roast tasty chestnuts thoroughly and serve them in small paper bags.
5. Baked sweet potatoes – Goon goguma (군고구마)
Just peel the skin, wait for it to cool, and enjoy! If you want to add a little bit of spice to it, it goes perfectly with some kimchi.
6. Spicy rice cakes – Tteokpokki (떡볶이)
Perfect for winter, this Korean treat is warm and delicious. The spice also helps if you need to clear out your sinuses from a cold. It's one of Korea's staple comfort foods and who doesn't need some delicious comfort in the frosty winds of winter?
7. Egg bread – Gyeran-ppang (계란빵)
This is literally warm, sweet bread with an egg inside, how can you go wrong? Sold all year and perfect for those chilly winter days!
What's your favorite Korean winter food and what have you tried before?