As winter creeps closer and the temperature begins to steadily drop into single digits, Korean streets are transformed into a flurry of long black coats huddled around food trucks and stalls parked on the sides of the road. Korean street food is a cultural emblem and has become an increasingly important commodity in drawing in tourists from across the world. The Korean street food scene is an extremely dynamic one.
Street food in Seoul, and the rest of South Korea for that matter, is not confined to a singular static space. These glutinous havens can be found everywhere, whether it be a steamed corn lady whose truck has been visiting the same neighborhood spot for the past 20 years or it be an obscure tteokbokki (떡볶이; spicy red rice cakes) kiosk tucked away in the city's financial district.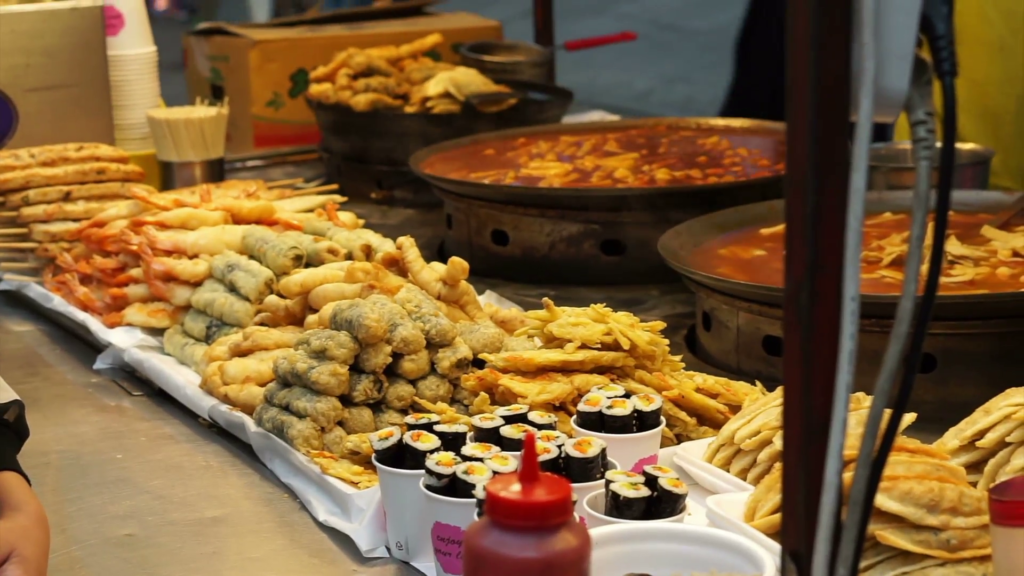 The scope of Korean street food is so large that it is nearly impossible to confine and condense its vastness in one article. Nonetheless, this article will outline some of Korea's most famous street food and where you can find the best of the best.
Food trucks and kiosks
Food trucks in Korea are unlike the ones popularly found in America. Korean food trucks are often small two-seater trucks with plenty of room in the back for whatever product its owner is selling. These food trucks are often strategically parked in busy office areas, in front of subway stations, and near schools. Its owner will either be seated in the back or standing in front of the truck flipping hotteoks (호떡; flattened fried dough filled with sugar, nuts, and cinnamon). These food trucks often frequent the same spot and will change their products depending on the season. Because of the extreme temperature drop in Korea, the winter season welcomes some of the best street food. From November to early March you can expect to see plenty of places offering steamed corn, roasted sweet potatoes (군고구마) or chestnuts (군밤), and bungeoppang (붕어빵; "carp" bread filled with sweet red bean paste).
While the food trucks are come and go, kiosks are permanent fixtures that can be found next to busy bus stops and inside subway stations. Commuters are welcomed with a permanent offering of a set of five dishes:  ttteokbokki, kimbab (김밥; seaweed rice rolls), sundae (순대; blood sausage) odeng (오뎅; fish cakes in soup), and an array of tuigim (튀김; deep fried food). Kiosks are a quick stopover for busy commuters who can stop for five minutes to stand and gobble down a quick bite before dashing off to their bus or train.
 Food markets and street stalls
In South Korea, food markets come in two main forms. The first are traditional and long-established markets that function under the sturdy fixtures of a ceiling. The most famous popular in Seoul consist of Gwangjang Market, Tongik Market, and Namdaemun Market (the oldest, dating back to the 1400s). These markets are filled with tourists and locals alike searching high and low for their favorite snacks amongst the hustle and bustle of the many stalls. These markets almost exclusively serve traditional Korean street food, like the aforementioned set of five, bindaetteok (빈대떡; mungbean pancakes), spicy chicken feet, and mandu (만두; dumplings). Unlike kiosks and many street vendors, you can sit down and eat by these stalls to rest your weary feet after a long peruse around the vast market. Additionally, at these markets you can also purchase your banchan (반찬; side dishes) to take home with you or venture into side shops that sell miscellaneous items.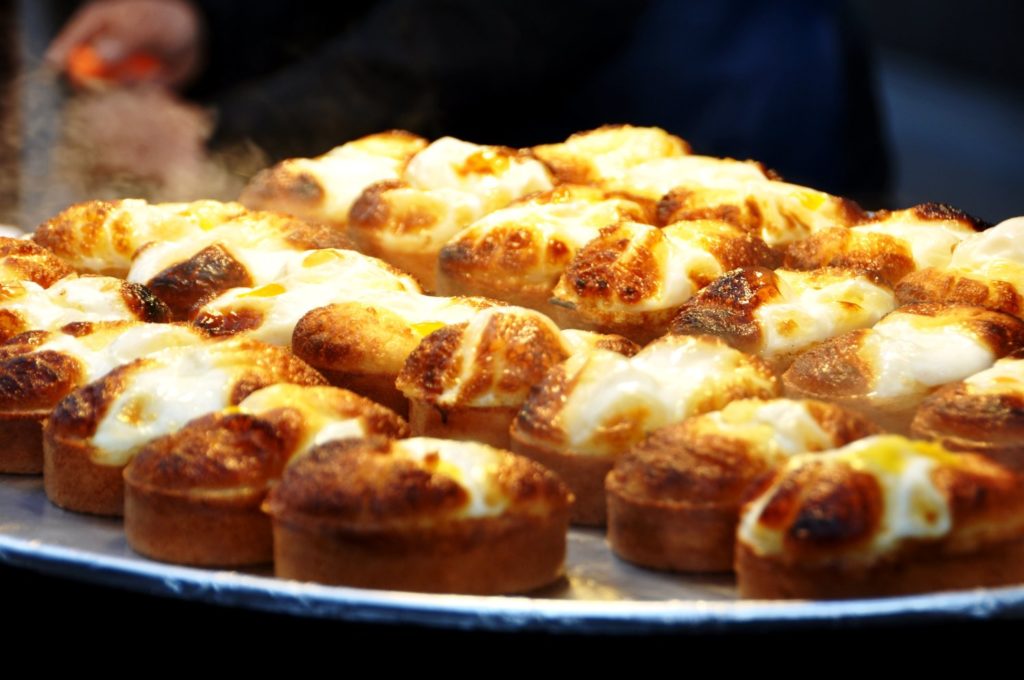 Unlike the more traditional food markets, certain neighborhoods are known for their streets being lined with obscure street food stalls. The most popular street food neighborhoods in Seoul are Myeongdong and Hongdae (both known for being a haven for shoppers) and have become known as almost open-air
restaurants. Hongdae and Myeondong alike are lined side-to-side with stalls filled with exciting and tasty twists on food. Amongst some of the most popular are bungeoppang topped with ice-cream and honeycomb, "tornado" fried potatoes, spicy deep-fried chicken topped with cheese, egg-bread, and fried halloumi on a stick. The brilliant thing about Korean street food is that it's extremely affordable, allowing it to be something accessible to all. In Myeongdong there is an exception to this rule of affordability. A popular stall now serves a whole grilled lobster tail, which has been slathered in butter and then topped with melted cheese for 15,000 won. Cheap, it is not, but it is tasty.
Street food in Korea is a truly exciting scene and is an integral part of the Korean experience, local or foreign.
Please remember, we have a special 2-week study trip focused on Korean food next Spring. Please click here to learn more. Spots are limited, check it out now to get a limited time promotion.
Author: H.W. Nam