You've been dreaming of being in Korea and now you finally have the chance to go. There are so many things to do in Korea, you'll be spoilt for choice! But where to start? Here are our recommendations for the top 10 things to do in Korea.

1. Sing your heart out at a Korean karaoke
How many times have you wanted to let off steam by singing with friends without the risk of strangers intruding? In Korea you can do this in noraebangs, private rooms where you can sing whatever you want. It's also useful to practice your language if you choose Korean songs, which are subtitled in Hangeul.
2. Chat with Koreans
What better way to put your Korean studies to good use than by talking directly to native speakers? If you're in Korea, meeting Koreans won't be difficult, and there are also special places to meet new people and exchange languages. There are many, including GSM in Gangnam and Playground in Hongdae, both in Seoul, but there are also many others. They are multicultural environments where you can practice English and Korean in particular.
3. Stroll along the Han River
How many times in dramas have you seen the main characters walking along the Han River? Once in Seoul, don't miss the chance to visit this beautiful river that you'll fall in love with at first sight. The Han River runs through the entire city, so no matter where you are, it's easy to have access to. There are often parks and cycle paths along the river, and it's not uncommon to see Koreans in tents having a picnic with the inevitable fried chicken, which you can order on site and have it delivered directly to there.
4. Go to the hangeul museum
If you're in Korea to study Korean, you can visit the National Hangeul Museum, near Yongsan Station (용산역). Admission is free and it's very interesting to learn more about the origins and workings of the Korean writing system. If you can't get enough, the National Museum of Korea is a short walk away, where you can learn more about Korean history and culture.
5. Fly to Jeju
Jeju Island, a UNESCO World Heritage Site, is a real pearl in the Pacific Ocean. Don't miss the chance to see its waterfalls and beautiful natural landscapes, taste Jeju's mandarins and black pork, trek up Korea's highest mountain, Mount Halla, and meet the haenyeo, the female fishermen who dive only in their wetsuits, free-diving without oxygen tanks to resurface with seaweed and seafood, also a UNESCO World Heritage Site.
6. Sleeping in a hanok
For a complete cultural experience, you can't pass up the chance to sleep in a hanok, the traditional Korean dwelling. There are many hanok villages (한옥 마을) throughout Korea, but the largest and most popular are in the cities of Jeonju and Gyeongju. If you're planning a tour of Korea and happen to be visiting these cities, be sure to stay in a hanok for an all-round experience of traditional Korea.
If your trip only includes the capital city of Seoul, don't worry: it's possible to stay in a hanok here too, although the traditional villages here are much smaller than those in the cities mentioned above. You can find one not far from the Gyeongbok-gung royal palace.
7. Try the Korean sauna
You may have heard of jjimjilbang, the Korean sauna. It's very different from what we're used to here in the West, both in terms of the separate gender zones where you go completely naked, the variety of hot, cold and flavored saunas it offers, the fact that you can also sleep in it and the possibility of eating boiled eggs cooked right on the hot sauna floor.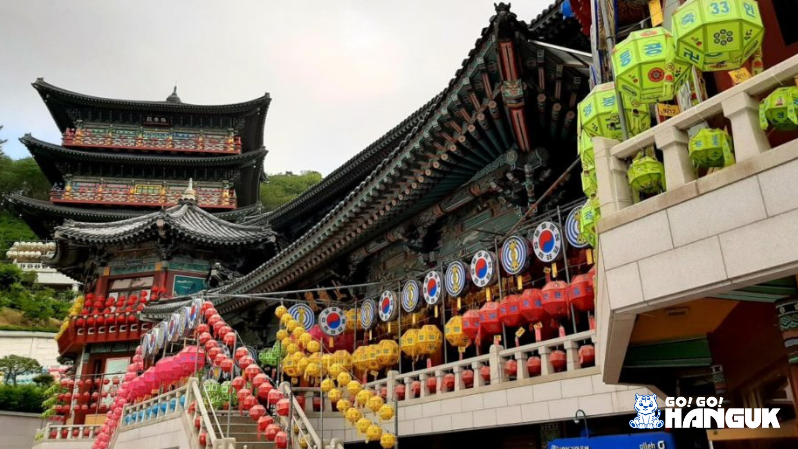 8. Overnight stay in a temple
One opportunity that many Korean temples offer is temple-stay. This is the chance to spend one or more nights inside a traditional temple and live like Buddhist monks for that period of time. An experience not suitable for smartphone addicts!
9. Try Korean street food
One of the joys of Korea (and life in general) is definitely food. So why not try all the flavors that Korean street food has to offer? From sweet snacks, such as bungeoppang and hotteok, to savory snacks, such as japchae, sundae and kimbap to name a few, you'll be spoilt for choice. Daredevils can also try beondegi (번데기), or silkworm pupae. Learn more about Korean street food in our article.
10. Wear the hanbok
Finally, to complete the Korean experience, don't forget to wear the hanbok, the traditional Korean dress, at least once. You can rent it cheaply or try it on for free at places like the K-Style Hub and the Seoul Global Cultural Center.
These were the 10 things to do in Korea that we think will make your experience unforgettable. Is there anything else you think is a must try? Let us know in the comments.
If you enjoyed this article, keep following the Go! Go! Hanguk blog and don't hesitate to contact us about living and studying in Korea. For study holidays of just a few weeks, including language courses, accommodation and cultural activities, see our Studytrip.com page.