Most people who decide to study Korean in Korea choose to live in Seoul. The reason is simple: Seoul is not only the capital of South Korea, but it is also a growing metropolitan city that has a lot to offer, both in terms of the quality of schools and entertainment. 
In this article you'll find out some of the perks of living in Seoul and what it is like living and studying there.
The characteristics of the city of Seoul
Seoul is a large and ever-expanding metropolitan city with an excellent transportation network, which allows you to reach anywhere inside and outside the city.
Although it is an urban center, there are many green areas, which is one of the best perks of Seoul if you love city life but also love being close to nature. No matter where you are in Seoul, you can see stunning mountains and go to beautiful parks where you can relax and take a break from the hectic city life. The mountains may not be that tall, but they are great places to immerse yourself in nature without having to stray too far from the city, of which you can have a breathtaking view once you reach the top of the mountain. Since the winters in Korea are very cold and the summers very hot, trekking is popular mainly in spring and especially in autumn – during which the leaves of the trees turn bright red.
Additionally, the city is cut in two by the Han River, along which you can find cycle routes and parks suited for picnic areas. The bridges that connect the two areas of Seoul also offer spectacular views, especially in the evening.
Seoul is also a very traditional Korean city. There are many ancient buildings, including Gyeongbok-gung (the palace) and Buddhist temples, including Jogye-sa, and Bongeun-sa, which is in the district of Gangnam. 
There is also a small area where you can find traditional Korean houses, called the Hanok village – hanok means traditional Korean houses. In this area, still inhabited mainly by rich families, there are many tourists who wander around in hanbok, the traditional Korean dress, to take pictures.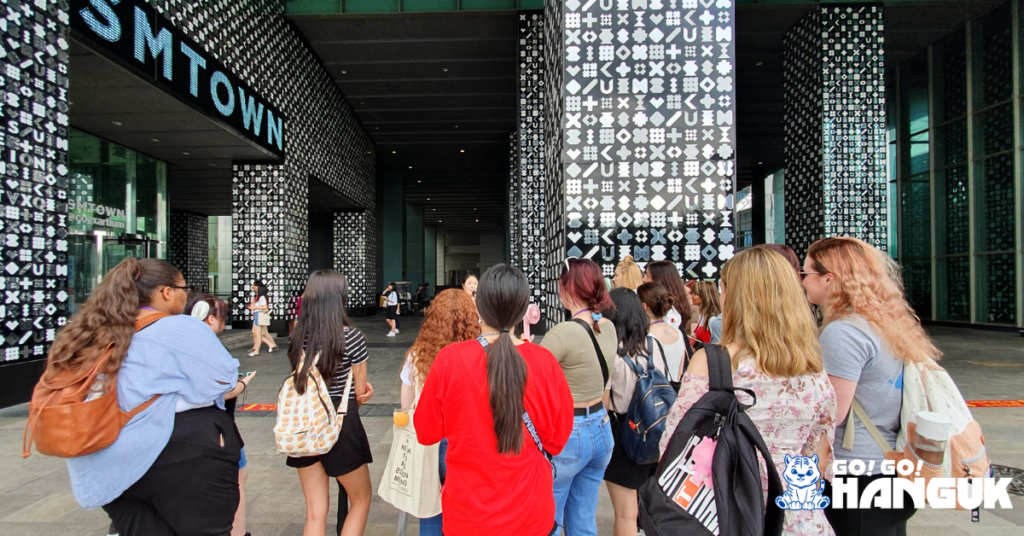 What to do in Seoul
One of the greatest perks of living in Seoul is that there is no shortage of activities to do and there is something for everyone. There are many places to go shopping, ranging from malls scattered throughout the city to the famous Myeong-dong district which is especially known for shopping. There are also a variety of coffee shops, from normal chains such as Starbucks to more unique bars, where you can take a break. In addition to drinking coffee and enjoying a piece of cake, you will also find many people studying or working on their computers.
If you are looking for cultural experiences in Seoul, there are many museums, art galleries and theatres that offer shows in a variety of languages.
As previously mentioned, if you like nature, Seoul has many parks and mountains where you can walk or trek.
In the evening, as well as normal activities, in Korea you can go to noraebang (노래방, from 노래 = song and 방 = room). This is Korean karaoke and is different from Western karaoke. For a very affordable price you book a private room where you can sing along with your friends without having to worry about doing it in front of strangers.
If you want to meet other foreigners and make new friends, there are lots of events organized periodically, where you can meet new people, including Koreans eager to practice English or learn about a culture different from their own.
Finally, let's talk about the most famous districts for nightlife. First, there is Hongdae, frequented mainly by university students. In addition to pubs, clubs and cheap restaurants, you can always find street artists who are dancing, singing or playing the most popular k-pop songs. The other two most famous neighborhoods for nightlife are Itaewon, frequented mainly by foreigners since it is located near the former U.S. military base, and Gangnam, considered the most "in" area of Seoul.
Read our other articles to discover more aspects of Seoul:
– The 10 best coffee shops in Seoul
– The best day trips from Seoul
The perks of living in Seoul
The main perk of living in Seoul is that you will live in a metropolis where you can find everything from the useful to the superfluous – it is impossible to get bored. As well as studying Korean at school, you will be able to practice the language all the time. And since you can find people from all over the world in Seoul, you can make friends from all over the world. 
Seoul is also within easy reach of South Korea's major cities, making it a good base for exploring the rest of the country. Living in Seoul is advantageous in many ways.
For more information about living and studying in Korea keep following our blog.