One of the most convenient accommodations for out-of-town students studying Korean is definitely the university dormitory in Korea, which is cheap, comfortable and practical. If you decide to study in Korea, it will be one of the options you can choose as an accommodation.
Although each school has different rules, here we will describe how student life on campus generally works.
Keep reading to know the characteristics of a dormitory in Korea!
Accommodation description
Every university in Korea has a dormitory which can accommodate a significant number of students. They're usually located on campus and if you decide to live in this type of residence you will have to share a room with another person. Of course, there are several sections divided by gender and common areas accessible to both boys and girls. In the room that will become your temporary home, you will have a bathroom, a large window, a wardrobe, a personal desk, a heating system, air conditioning, and of course your own bed.
Usually, there is also a mini fridge to keep some extra food or drinks, a small bookcase, and on each floor there can be a small common room with a view. If you decide to live in this type of accommodation offered by the university, you must reserve a spot in advance. A dorm room can be reserved once you have submitted your application documents. 
Let your

Go! Go! Hanguk

student coordinator knows if you are interested in the school dorm, in order to make a reservation.
University dormitory benefits
Living on the university campus in Korea has a lot of advantages.
First of all, you will be able to reserve a dormitory room at the same time as you are preparing your documents to study in Korea. This is a great way to avoid having to get in touch with local estate agents or other people renting a room. You will be able to have your own space very easily and conveniently.
The university dormitory in Korea is usually very close to the main campus where you will be attending classes, and it is very cheap. It will definitely cost less than a goshiwon or other types of accommodation. The most appealing thing is that you won't have to pay what is called 관리비 (gwanlibi) in Korean, i.e. electricity, gas, etc. bills, which can save you tons of money.
Also, since you will be staying with another student, you will be able to make friends quickly, not only with your roommate, but also with other Korean and foreign students living in the dormitory. This will make it easier for you to enter Korean university life and make new friends.
Finally, there are always cafeterias on university campuses, which offer full meals for lunch and dinner at very reasonable prices. This way you can save money on food and start to get used to Korean food.
Of course, the dormitory will also give you some minor disadvantages, such as curfew hours, having to answer a roll call once a week, and not being able to sleep outside the dormitory too many times. However, the advantages are far greater, and because you will be a student, the dormitory can help you focus better on your studies.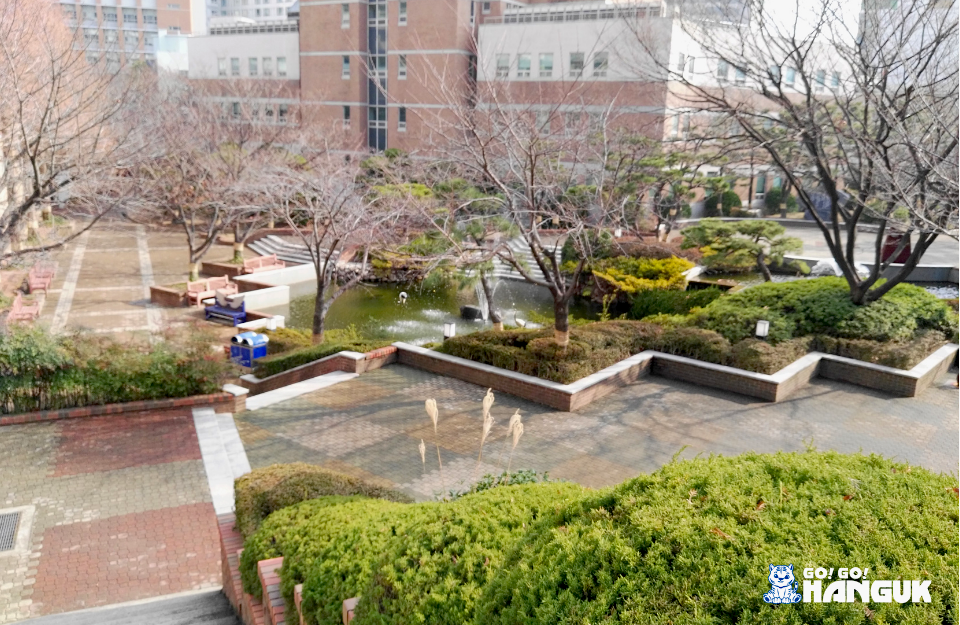 Dormitory life
As mentioned earlier, living on campus is an integral part of Korean university life. You'll be able to practice the language with your roommate, or any other friends you have the chance to meet. You'll also be given a student card that grants you access to the library to study, or to the university gymnasium, which you can use at discounted rates. In addition, some of the most fun events that take place at Korean universities are the 축제 (chukje) festivals, which are organized at different times and where you can enjoy many different activities with your Korean friends.
Another important feature that your university dormitory in Korea will afford you is the ability to go for a walk without having to take the metro or travel too far, as you can do this on campus. There are often areas with gardens and ponds, trees and nature, where you can relax and enjoy during your free time. 
Korean universities usually have cherry trees, as well as trees whose leaves change colour in autumn to beautiful shades of red, yellow and orange. This will give you the opportunity to experience these beautiful seasonal changes without straying too far from home.
On the university campus, there are also football pitches, basketball courts, tennis courts and so on, giving you an extra chance to have fun with your friends.
The university dormitory in Korea therefore offers many advantages, and could become your home for some time. If you decide to study in this country, it will be the least expensive type of accommodation, which is sure to leave you with many good memories.
If you're interested in Korean life and culture, keep following the Go! Go! Hanguk blog, and contact us about studying Korean in Korea.