In general, there are four Korean language school terms each year, which means four times a year, you can start studying. If you want to maximize your time in Korea, you will want to apply for the term that works best for you. Additionally, you will need to know the best time to apply. Learn more about how Korean language school terms work and when to apply to guarantee your spot below!
Basics of Korean language school terms
Korean language schools terms begin in March, June, September, and December each year. Each term lasts three months. Note that some schools only have two terms, so it's always best to check with us for your chosen school.
While the student visa is valid for a maximum of two years, it is possible to leave Korea and return later to finish studying if you wish to do so – as long as you cancel your current visa when you leave the country. When you're ready to come back, you will need to reapply for a new student visa.
There are exceptions and course lengths will differ between schools, so it's always best to double-check with us with regards to each school.
All schools assess you regularly throughout each term and most have a major midterm and final exam. To proceed to the next level, you must pass these tests as well as attend class, keep up with classwork, and do your homework.
Choosing which term is best for you
Deciding on which Korean language school term you should start in depends on what your goals are and your current level of Korean.
If you are a beginner and want to get the most out of your language studies, then starting in March is a great option. It's also advantageous for those who wish to move onto further education, as universities generally have two terms: one in March and another around September. If your plan is to go to university, then you will need about 12-18 months to get your Korean up to speed in time.
For those in the northern hemisphere who want to start at a language school immediately after finishing high school, September might be the best choice. This allows you time to complete your education, graduate, and have a bit of time off during the summer before heading to Korea to begin your language studies.
If you want a seamless transition after finishing school, then it could make sense for you to sign up for the June term depending on when you finish school. You'll also get to experience the warm summer weather right off the bat!
For those that finish schooling in their home country during a winter semester, the December term is right for you! Experience Korea during winter, where you can enjoy snow sports like skiing and snowboarding in a country that is 70% mountains!
If you need more advice on which Korean language school term would be best for you, don't hesitate to get in touch with us.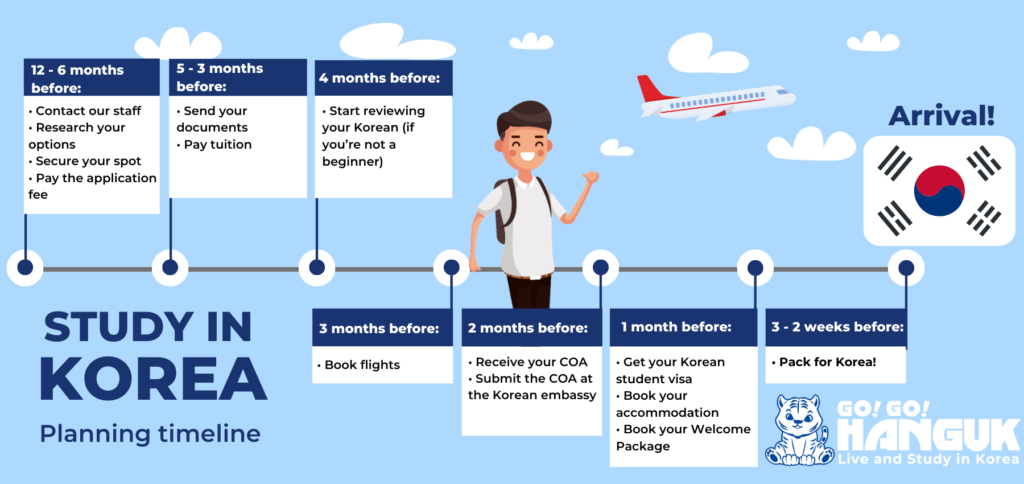 When to apply
Ideally, you should begin your application roughly 6 months before you intend to start studying in Korea. This means that if you would like to start studying in September, then March is the perfect time to contact us and get your application started.
Remember that you can always get in touch with us if you're unsure about the application process.
What to do in each term in Korea
There is always something unique to experience in Korea no matter the time of year.
Catch the best of winter and see in the new year at the start of the year, in spring you can experience cherry blossom season, enjoy the beach in Busan during summer, or go hiking to admire beautiful changing leaves during the fall.
If you want more help with deciding which Korean language school term would work best for you, don't hesitate to contact us!