Daegu (대구) is the fourth largest city in Korea after Seoul, Busan and Incheon, and it is definitely worth considering if you're thinking of studying in Korea. It is indeed a metropolitan city rich in amenities and services, and with excellent schools available.
Let's see what its characteristics are and why you should consider living and studying in Daegu.
The characteristics of the city of Daegu
As mentioned above, Daegu is a metropolis and offers a large variety of services. The transport network is excellent: there are subways, buses and trains. Taking the train is the best choice to reach other cities in Korea. Daegu's location is rather strategic. Despite not being located in the central part of Korea, it is still well connected to all the main cities. Daegu can therefore be an excellent base from which to visit the rest of Korea. For example, it is only about an hour and a half from Busan by train, and only about two and a half hours from Seoul.
For nature lovers, there is no shortage of green areas. In fact, there are many parks within the city, some of the very large ones even have ponds. Just on the outskirts, there are also many mountains, where it is possible to go trekking.
Here too, as in most Korean cities, you can witness a fusion of tradition and modernity. Alongside temples and traditional-style structures, there are modern and high-tech buildings and constructions.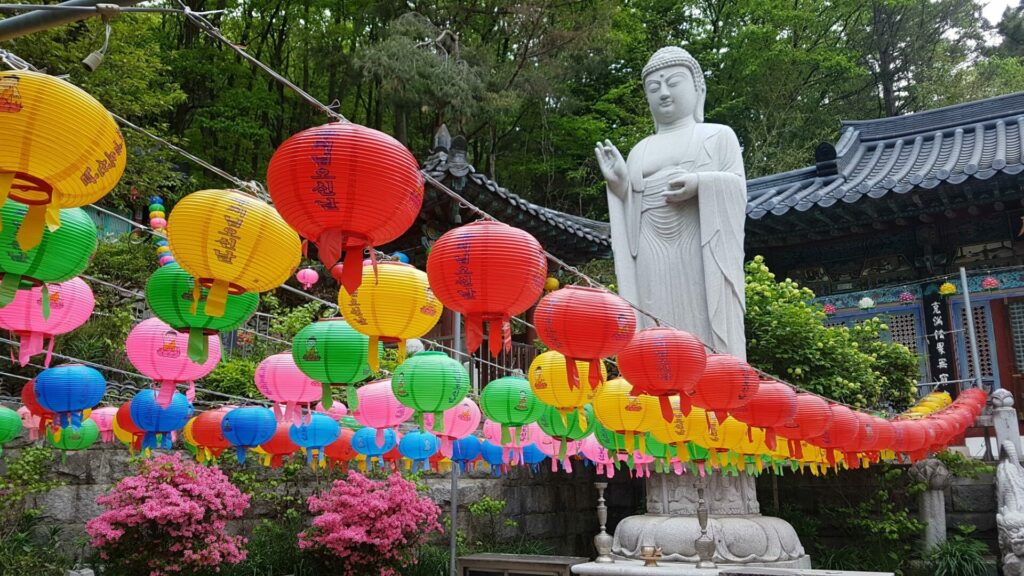 What to do in Daegu
There are an endless number of things you can do in Daegu. If you like shopping, there are plenty of dedicated areas. For example, you can go to Seomun (서문시장) and Gyeodong (교동시장) markets, or to Dongseong-ro, which is a street full of shops and malls. Other big shopping malls in different areas of the city are the Lotte Outlets Esiapolis located in Dong-gu, which is a district in the northeast of the city, and the Color Square, near the stadium in Suseong-gu, a district in the east.
If you prefer cultural activities, you can visit the various museums in Daegu. These include the Daegu National Museum, which displays mainly archaeological finds, the Daegu Art Museum, dedicated to contemporary art, and the Daegu National Science Museum. If you are particularly interested in fashion and its history, we also recommend the DTC Textile Museum, Korea's only textile museum, since Daegu is the main hub of the textile industry.
As for leisure activities, you can have fun in the various karaoke (noraebang, 노래방, the Korean karaoke) and relax in the many coffee shops. We particularly recommend Apsan Café Street, where you can find many special coffee shops.
Also in this area, we recommend paying a visit to the Daedeok-sa Temple (대덕사) located inside the Apsan Park (앞산 공원). It houses a museum on the Korean-Japanese War and it is where you can take a cable car to the top of Mount Apsan. Alternatively, if you are an avid hiker, you can reach the summit on foot. Trekking (등산) is a very common activity in Korea, as Korea is a very mountainous country, and there is no shortage of places to do this in Daegu. The less adventurous can still get out into nature by walking in various parks or along the Geumho River, west of the city.
For a day of fun, you can go to Daegu E-World, an amusement park in the city centre built around the Woobang Tower, the almost 'twin' tower of Seoul's Namsan Tower. In the park just outside E-World, the Duryu Park (두류 공원) holds an annual lantern festival on Buddha's birthday in spring, during which people get together and throw lanterns into the sky.
If you choose to live in Daegu, you definitely won't be bored!
The advantages of living in Daegu
The main advantage of living in Daegu is that its strategic location makes it an ideal base for visiting the rest of Korea. Public transport is excellent and the centre is connected to all the other main cities in Korea.
Moreover, the cost of living is lower than in the capital, which is another big plus point. Despite a lower cost of living, the city is still well equipped with everything. You will experience the same convenience as you would living in the capital.
If you want to study Korean in Daegu, we at Go! Go! Hanguk collaborate with Yeungnam University. The Korean Language Institute (KLI) at Yeungnam University was founded in 2002 and offers courses that focus on the four main aspects of learning a language: listening, speaking, reading and writing. In addition to this, the institute organises a variety of cultural activities through which students can learn about and appreciate Korean culture.
If you are considering studying Korean in Korea, we suggest you also consider Daegu, in addition to the better-known cities of Busan and Seoul.
We hope you found this article useful and for more information, keep following the Go! Go! Hanguk blog.