These are the apps you need to download for your stay in Korea. Some are essential for functioning in Korean society and some are recommended apps that can help you enjoy your time in Korea even more!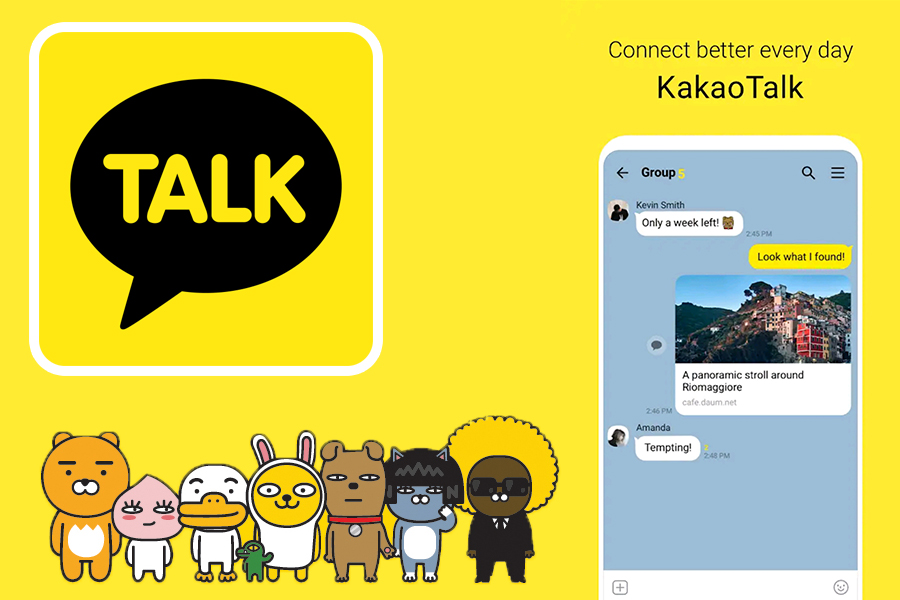 KakaoTalk – A messaging app
KakaoTalk is the most popular messaging app in Korea – everybody uses it! You might as well download it before you arrive in Korea. Then you'll be ready to contact and connect with people right from the start. This app is so popular that its emoticon characters have their own cafes and stores where they sell their character merchandise. They call them "Kakao Friends".

KakaoMap and Naver Map
Unlike many countries, Google Maps is actually not the number one choice of navigation service in Korea. Google maps have an outdated interface and are not as regularly updated. The local navigation services, that also happen to be available in English are Naver Map and KakaoMap. These apps provide a more reliable and detailed map service. Even though they do support English and almost all the famous sights have English names, you might stumble upon places on the map that do not have English names. That's why it's always useful to learn how to read Hangul – the Korean alphabet. Read more about Hangul: The world's best writing system 
The differences between Naver Map and KakaoMap
Both of these maps do the job. KakaoMap seems to have a larger amount of user-generated content with many photos provided and a lot of Korean reviews. On the other hand, when looking up directions, Naver Map provides more English names to the bus and train stations with clear directions. We recommend you to download both and try out which one would suit you and your needs best.   

The subway apps in Korea
There are actually many good subway apps in English. The ones to download all depend on what city you will reside in. Subway Seoul is one of the most popular apps when traveling in Seoul. It shows the subway map and you can easily map from your starting point to your destination. It will give you the fastest route, fewest transfers route, what door number you should get off at for a faster transfer, and the fare price.    

The bus apps in Korea
Sometimes taking the bus can be more convenient. Although the navigation map apps do give a detailed journey itinerary with the starting and ending points, the real-time bus arrival times are unfortunately not as accurate as one would hope. This is where KakaoBus saves the day!
Simply search for the bus number or bus stop to get all the information you need. KakaoBus tells you the location and route of every bus, as well as the estimated arrival time at your bus stop.

Kakao T – Taxi app
Korean public transportation is probably one of the best in the world. But it doesn't run 24/7. During the late hours and mornings, it can be hard to find an available taxi on the street, this is where Kakao T saves you time! Just simply set your location and destination and a taxi will be alerted and head straight to you. The service is cheap, fast and so convenient!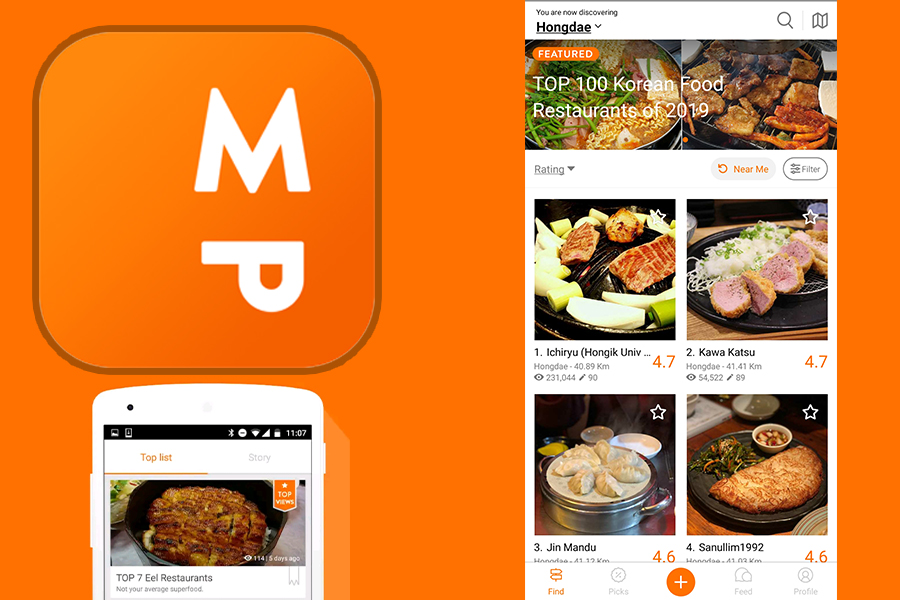 MangoPlate – A foodies app
This app is for everyone who loves finding the best places to eat or drink! Although there are many types of these app services, this one is all in English with the exception of reviewers writing in Korean.
How does it work? Simply pick a location or have your GPS on, and browse the pictures of foods from the restaurants near you. Click on one to see more about it. This app includes different food search filters as well as location searches. You can make your own lists & ratings and you can even follow other reviewers.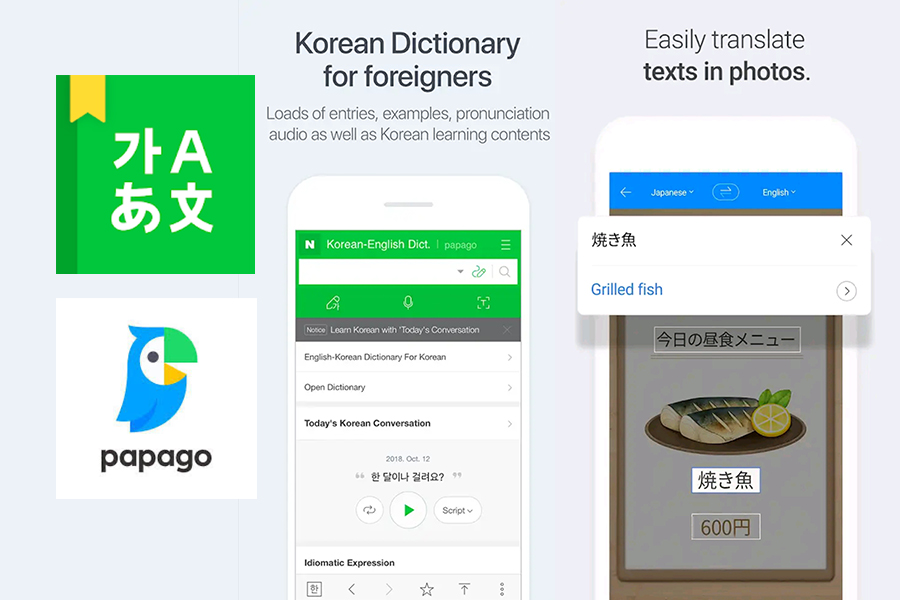 Naver Dictionary and other Korean translation apps
While studying and living in Korea, you probably want to know what the best translation apps are, right? The best and most used word translation app would be Naver Dictionary. This is because Naver Dictionary provides many English synonyms for every Korean word and good sentence examples. However when it comes to translating sentences that is where it gets tricky.
Google Translate is one of the most famous translation services out there. But like any other language, translating English or other languages to another almost never ends up in a great translation. The best thing to do is try multiple translation apps and in the end, ask a teacher or a Korean friend to correct the part you want translated to. A few app suggestions are Papago, Google Translate, and any photo translators for a quick and convenient translation.    

Naver Webtoon – A fun way to practice Korean
What are webtoons? Webtoons originated from Korea and are comic strips published on the web. Webtoons have spread and become popular internationally. There are many webtoon apps that offer a variety of genres and other features such as subscriptions, comments, etc.
Reading webtoons in Korean can be a fun way to study and kill time. You might notice Korean people reading a lot of webtoons while commuting. So if you too, want to enjoy webtoons, challenge yourself by downloading Naver Webtoon, or try out the webtoon apps in English.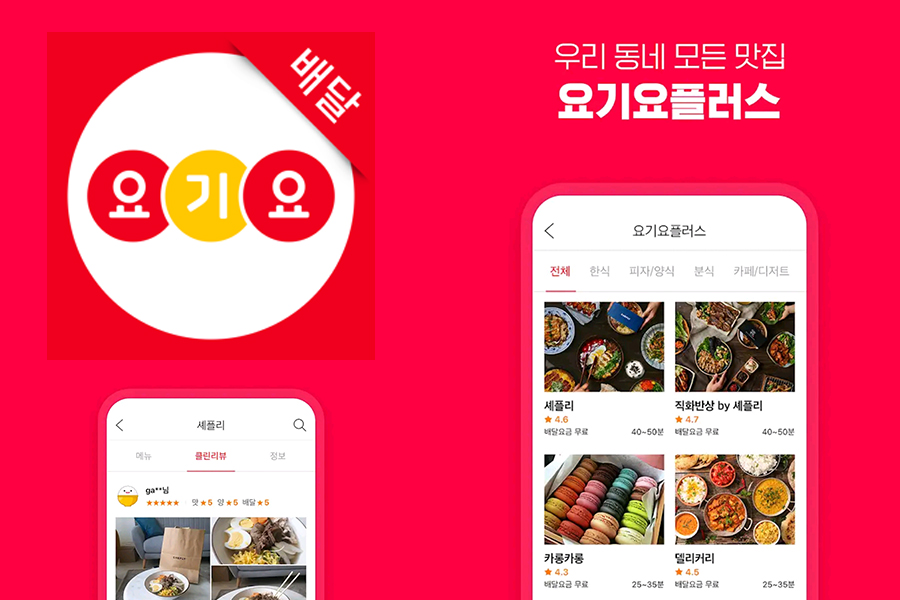 Yogiyo – Food delivery
Korea has an amazing food delivery service. Are you excited to try that out, but feel too nervous to call and order food? Then this app will help you out! Yogiyo lets you easily order anything from Korean, Chinese, pizza, burgers, and even desserts. While you order you can choose if you want to pay by cash or card. The food might arrive really quickly or take some time depending on where you live. This app is all in Korean but once you know how to read and translate, it won't be too difficult to use. 
Shuttle delivery is a similar app but in English! This app is currently only available in Seoul (Yongsan, Gangnam, Mapo), Busan (Gwangalli, Haeundae), and Pyeongtaek (Camp Humphreys, Osan Air base).

Check the air quality via an app
Depending on the time of the year the air quality in Korea varies. When there's a lot of fine dust it can affect your health immensely. The app Air visual air quality monitors the air quality and lets you know how bad it is in your location. It also sends an alert notification if the fine dust is at a dangerous level. This app is in English but another good app that does the same is Misae Misae (미세미세).