In Korea, there is a special dessert for cooling off in summer: bingsu (빙수). It is a dessert consisting of a base of crushed ice to which various toppings are added and is in a way comparable to shaved ice. 
There are several types of bingsu; if you want to find out what they are, keep reading this article!
The history of bingsu
Let's start first with the history of bingsu. It first appeared during the Joseon Dynasty through trade with China, where people used to mix ice and fruit to lower their body temperature during hot days, creating a dessert named baobing. In particular, government officials began to enjoy mixing ice and sweet beans or fruit, and gradually the dessert became common among the rest of the people as well.
Initially coarse crushed ice was used, but it was later replaced with much finer, snow-like pieces of ice. Today's bingsu is often served in very large portions, designed to be shared by two people or more, and includes various types of toppings.
The pat bingsu
The classic and longtime favorite bingsu is the one with red bean(usually served as red bean paste) (팟, pat) and is called pat bingsu (팟 빙수). It is also often decorated with small tteok, which are pieces of glutinous rice cake. All eaten together it creates an exceptional flavor.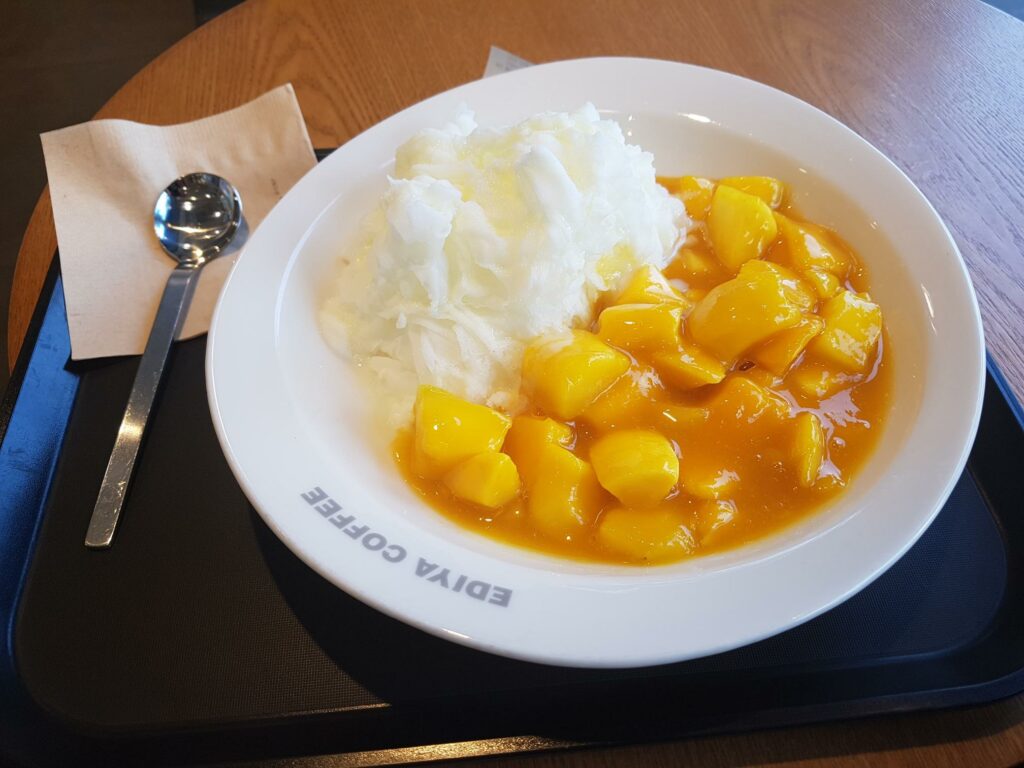 The mango bingsu
Mango bingsu (망고 빙수) is, as the name implies, prepared with mango. It is simply shaved ice topped with chunks of mango and mango syrup. It is among the most popular along with pat bingsu.
The bingsu tiramisu
The tiramisu bingsu (티라미수 빙수) is the bingsu with either tiramisu cream topping or cheesecake cubes in this flavor. Of course, we cannot expect the exact same taste as Italian tiramisu, but we can say that it comes very close and it is a dessert that is an excellent fusion of the two cultures.
The choco bingsu
As can be guessed from the name, choco bingsu (초코 빙수) comes together with chocolate. It can be decorated with only chocolate syrup or with chocolate chips and ice cream as well.

The ddalgi bingsu
The ddalgi bingsu (딸기 빙수) is strawberry bingsu (ddalgi in Korean). They are a popular fruit in Korea, which is why bingsu with strawberry topping is also one of the most widely consumed. However, the strawberries usually found on bingsu are frozen and turn out a bit icy even when served. The idea is to make everything cold and icy, but those expecting fresh fruit may not be completely satisfied.
The nokcha bingsu
Koreans love green tea, so this variation of bingsu, called nokcha bingsu (녹차 빙수), is also a must. Typically, in this variant the green tea is already dissolved in snow ice, which, instead of being white as usual, is green. It is then often combined with green tea ice cream, tteok and pat.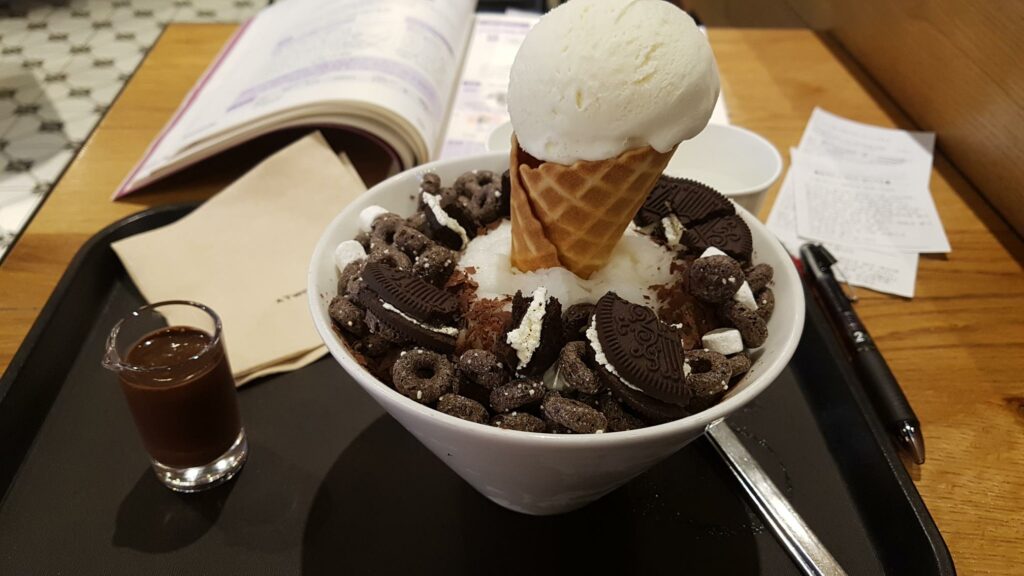 Other types of bingsu
These ones are just some of the tastes you can try. There are many other types of bingsu: with ice cream, with blueberries, with cereal, with cheesecake-style cheese cubes, and so on. You can really have anything with bingsu.
As you can see, there are really so many kinds of bingsu – the one ingredient that can never be missing is the crushed ice base. After reading this article, which taste would you like to try the most? Let us know in the comments! For more on Korean culture, keep following the Go! Go! Hanguk blog and feel free to contact us about living and studying in Korea.